Product Description
About Hanse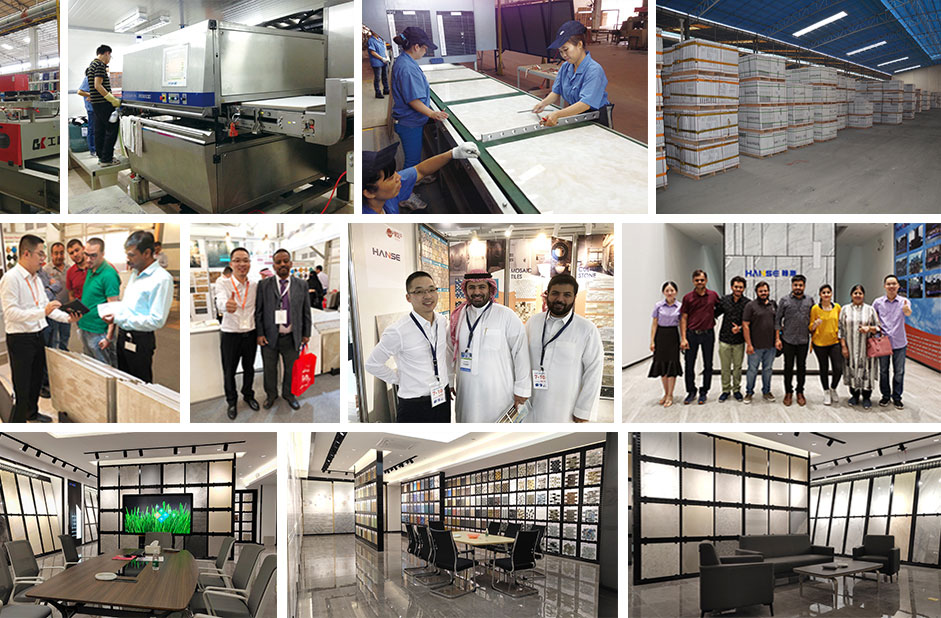 Our Services
Free Sample

Free sample order is provided, but the transportation fee should be paid by yourself. We ship the goods via Guangzhou port.

Design Scheme

We offer design scheme and effect drawing, helping you realise your vision for the most beautiful, effective and functional environments.

Product Types

Our products for sale including: bathroom accessories, sanitary ware, lamps, sockets, ceramic tiles and kitchen cabinets products.

Online Showroom

For more products please feel free to contact us. We accept online video chat that(whatsapp/wechat: +13927765473) you can get closer to visit our showroom and we'll show you all of our ceramic tiles, switch & socket, lighting, sanitary ware, bathroom products and cabinet products.
Featured Reviews
I have received the floor tiles I bought. The external packaging is very good. The floor tiles are antiskid and wear-resistant. The quality is very good. The tiles are of good quality. The whole environment is very beautiful. The customer service is very patient. I will answer any questions carefully. I will come here next time to buy them!
Online and offline integrated sales, Jieyang local dealers to provide door-to-door service, the whole process of brick laying service is very good, the whole set of design together to buy, the quality of tiles is very good, the effect of tiling is also very good, authentic all-in-one brick! Like one!! Tile received, very glossy, stripe clarity is very high, installation is very convenient.
Tiles received, clear lines, wear-resistant and dirty, very satisfied, five-star praise! Tiles and tiles are very good, much better than expected. There is no damage in the logistics home. Today, we will continue to buy 37 cases of Castel ash.
The quality of ceramic tile is very good, the workmanship is fine, the color is bright, the package is tight, there is no damage, the surface of ceramic tile is bright and clean, the color is good-looking, especially fashionable and atmospheric. Reasonable size. love it.
The quality of tile floor tile is very good, the material is thick, the surface is flat and smooth, which is worth recommending. I chose several of them, but I still chose this one. It didn't disappoint me. The quality of ceramic tiles is very good.
The quality recommended by friends is very good, much cheaper than that of other brands, and the quality of delivery is awesome. The seller has a good service attitude. There is no breakage of the green tiles. Thanks to the careful packaging of Hanse, the green stone is very natural, and the quality of the bar is very good for my small yard.
It's only installed today. The style is very well matched. The zinc alloy texture is still very good. The structure is simple. It's easy to eat and clothe yourself. As long as there are tools, the pre-sale service attitude is good, the business knowledge is familiar, and the efficiency is high. At first, I was hesitant to buy such a large lamp. Now it seems that my choice is right. The lamp was received, and the packaging was very careful, and there was no bump, It's very atmospheric. I like it. It's good.
Very beautiful, this lamp, simple and atmospheric, lighting effect is also very good! Everyone at home loves this lamp! After being accepted on behalf of others, they will be evaluated. Good, good.
Hanse, there are a lot of reasons for quality problems. When you cheat consumers, you also cheat your company's reputation. Even the packaging is faulty. Different styles of lampshades are put together. It can be seen that what is your quality inspection? Your management is There are 7 light frames with defects in the 10 head ceiling. What's your responsibility? It was said that the lampshade had dust cover, and it was also sent off. What kind of service attitude is it? Installed, the quality is very good, continue to buy next time.
The quality of the chandelier is good, and the service is also very good. Because the home is installed in European style, I bought the European style lamp online in advance. After receiving it, I didn't install it. I tried it specially and felt good.
Load More
Related Products