Product Description
About Hanse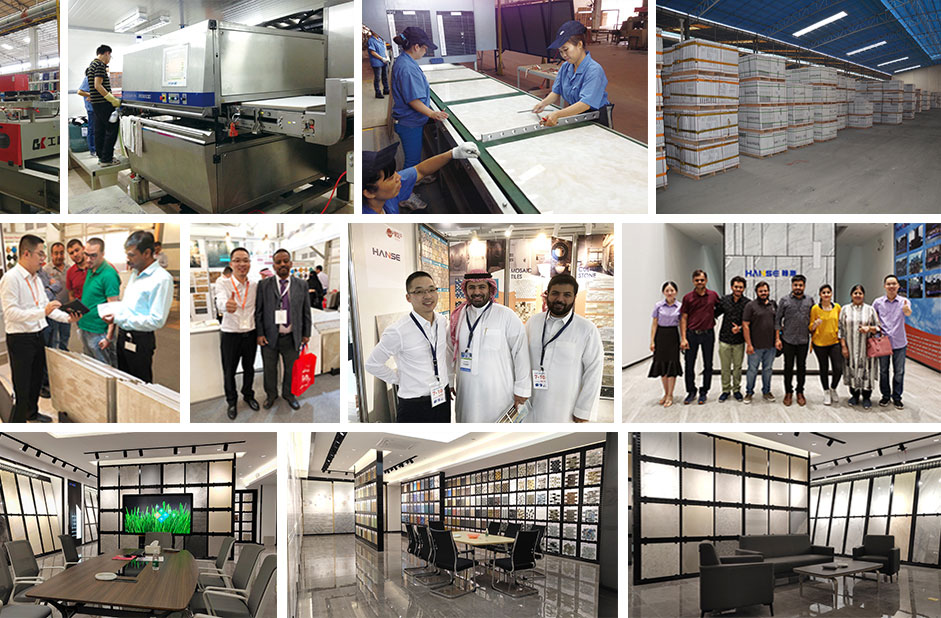 Our Services
Free Sample

Free sample order is provided, but the transportation fee should be paid by yourself. We ship the goods via Guangzhou port.

Design Scheme

We offer design scheme and effect drawing, helping you realise your vision for the most beautiful, effective and functional environments.

Product Types

Our products for sale including: bathroom accessories, sanitary ware, lamps, sockets, ceramic tiles and kitchen cabinets products.

Online Showroom

For more products please feel free to contact us. We accept online video chat that(whatsapp/wechat: +13927765473) you can get closer to visit our showroom and we'll show you all of our ceramic tiles, switch & socket, lighting, sanitary ware, bathroom products and cabinet products.
Featured Reviews
I've paid attention to the orders that my family has only made for several months, but now I've just made them. I dare not buy such a big thing on the Internet. When I started to consult, I didn't pack mail. I was not comfortable at all. I went to other people's houses to ask about them. They didn't pack mail... Customer service explained that ceramic tiles are heavy objects. They send them to logistics. According to the receiving area, they collect logistics fees. They reported the freight and calculated it by themselves, which is also affordable. They started to tell customer service that they would pick up the goods from the logistics company. Later, they felt that it was troublesome to pick up the goods. When the goods arrived, they told logistics that they would pay more than 100 yuan for delivery. I haven't found any damage at present. I'll see it later when I pave it. Tile sellers deliver goods very quickly, not bad.
It's not easy for me to buy a tile. The first time I sent the tile to the wrong place in the logistics, the second time I found a temporary worker because there were no workers, but the cost was that they subsidized a little. It's fair to say that the whole process was coordinated by customer service. After a lot of ups and downs, I received the goods. Thank customer service. The process was not easy, but I was satisfied as a whole. I placed an order until I received the goods I'm very grateful for the service. Tile good floor tile thick wear-resistant and very solid satisfied.
Received the tiles, the quality is particularly good, the delivery is fast, the seller's service is good, the logistics is fast, the cost-effective is high, good, received the tiles, the quality is good, very thick, I particularly like the pattern, the color is good, the shop is very tall on the feeling.
The tiles and floor tiles have been received. They are of good quality, bright surface, good stripes, affordable price, super low price, fine texture. They are comfortable to watch. Recently, they have chosen the most rigorous one at home. They seem to be satisfied with this one.
Tiles are very good, the seller's packaging is very attentive, there is no damage, the quality is very good, much cheaper than other brands of tiles, very cost-effective, the value of the purchase, the tiles have been received, the quality is very good, I like it very much.
The lamp is very beautiful, the logistics is very fast, the customer service attitude is also very good, the style is good, the lamp color temperature is very good, very suitable for lawn use Oh, too love, looks very high-grade, especially high-grade, put in the yard is beautiful and bright, the next time you buy a lamp.
It's very good. The package is very strong. It has been installed without damage. It has a good effect. It is a good product worth recommending. If you need it, you should start immediately and install it in your own yard with good light and high light. Therefore, it is far away from home. You will not enter the house in the dark at night.
Tile received, the quality is very good, good-looking appearance, light, wide coverage. Installation is very simple, exquisite workmanship, lighting effect is full, very practical, installation effect is very good, especially bright, very satisfied.
Very good, very good product very good, good, good, ha, buy it for me with unlimited buy back stick stick stick stick stick, outdoor light is meticulous, the light is soft and not dazzling, very satisfied with a shopping.
Related Products