How To Cut Tiles Around Toilet Pipes | DIY Bathroom Tile Cutting
2020/6/4 16:36:48
Quite often when tilling in a bathroom & washroom especially in a shower area, you may come across a pipe that you need to tile it around it. But in this article, you'll find out how to mark out and prepare your tile for drilling for a professional result every time, you will find out how to cut tiles around toilet pipes.
Cut Tiles Around Pipes & Drill Holes In Bathroom, Washroom & Toilets
Follow these steps for cutting bathroom tiles around pipes, I will reveal the top DIY secrets to help you save money and time!
Once you've set all your plain tiles into position and they've gone off, you need to mark up the exact position of the pipe onto your wall tile. Easy way of doing that is placing it in between putting it up to the underside of the pipe allowing a small spacer either side where your grout gonna be.
Use your marker pen and mark in the dead center of the towel, then reposition the bathroom tile to one side of it, again leaving an equal gap underneath and above for the grout and mark in the center of the pipe.
Now for the marks on the edges of the bathroom wall tile need to transfer that in the center to find out where that pipes gonna come through. So use the square and draw a line, and where your lines meet in the middle is where the pipes will come through.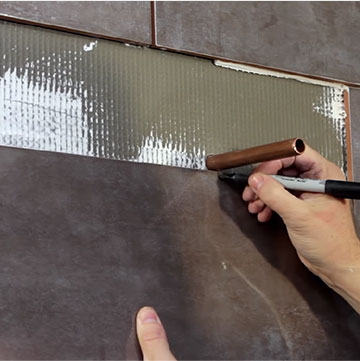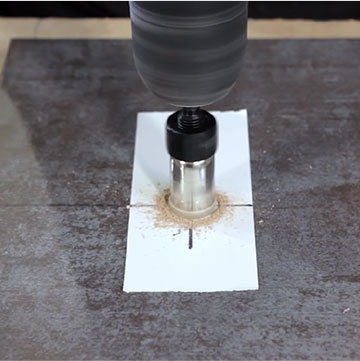 Now where your lines meet will be the center of the tile. So before you cut a hole, using the pipe hole cutter.
Swap the drill bit to the hole cutter and there we have the hole to go over the pipe.
Now you've drilled the

bathroom wall tile

, slide it over the pipe, double check that it fits, exactly into position. You've got an equal gap all the way around the outside for your grout. If you're happy with it, you can remove it, butcher the wall up with your adhesive.
We've get a decent comer through, bed the tile on it and leave it to set. You may find you want to fix items like a toilet roll holder or a towel rail to your

tiled wall

. It's really easy to do, you're going to have to drill a hole in there ready to plug.
Once you've found your location, put yourself a piece of masking tape on it first, mark it up, this is there to stop the drill bit sliding across the ceramic surface. Then you can use a spear tile drill bit, place it onto your mark.
Now the drill settings are very important on the drill, make sure you've got on the standard setting to drill and not the hammer action. Then you're ready to start drilling slowly.