Matte Tiles Vs Glossy Tiles - What's The Difference Between Matte & Gloss Tiles
2020/9/2 17:36:27
We should first understand the decoration materials when decorating house, not only to know its advantages and disadvantages, but also to compare each other to see which is more suitable. Ceramic & porcelain has a very important role in the decoration of family life, and there are many types of ceramic & porcelain tiles on the market for home decoration. Today we talk about matte tile and glossy tile, covering the difference between matte & glossy tile, pros & cons of gloss and matte tile.
Glossy Tiles
High gloss finish tile is a kind of tile with rich surface color, more specifications, because it is very convenient to clean up, so it is suitable for use in kitchen and toilet.
Pros of gloss tiles:
No radioactive elements, long-term contact will not cause harm to human body
There is basically no color difference that can be controlled
High bending strength
The brick body is thin and light
Make small rooms appear larger
Cons gloss tiles:
The shinier the surface, the more easily it shows up dirt.
Slippy, not a good idea for flooring and particularly for bathroom or wet-room flooring.
Matte Tiles
Matte tile is a kind of tile with matt surface. The light reflection coefficient of matte tile is very low. It will not cause light pollution and stimulate people's eyeball when it is used for decoration.
Pros of matte tiles:
The reflection coefficient is relatively low, which will not cause light pollution.
Color change is very natural, modeling, collocation rich.
Natural rustic finish.
Ideal for tranquil zone
Cons of matte tiles:
The surface is not smooth and is not easy to wash when cleaning.
Stains are are more stubborn.
Space is not opened up.
Matte Vs Gloss Tiles - Difference Between Matte & Gloss Finished Tiles
1.Characteristics & Features
They both belong to glazed tile, matte tiles and glossy tiles have the same characteristics, the glaze is rich and colorful, with complete specifications, diverse decorative styles, and has the characteristics of anti fouling and anti-seepage, which is widely used in wall and floor decoration. The biggest difference between the matt tile & gloss tile is the glossiness. The light reflectivity of the matt tile is low and there is no suspicion of "light pollution", while the glossy tile has a high light reflectance. The surface of matte tile is smooth and generous, and the surface of high gloss tile is smooth and delicate.
2.Decoration Effect
The overall feeling of matte tile decoration effect is introverted, calm and simple, while the high gloss tile is atmospheric, active and fashionable. Choose which kind of tile finish should be carried out according to the needs of decoration and the preference of decoration owners. Such as wall decoration, some people like low-key glazed matte wall tiles, this kind of ceramic tile decoration has a unique classical and deep, performance of people's elegant taste. Some people like glossy glazed wall tiles with shiny surface and enjoy the fashion and beauty it shows.
3.Application
When glazed tiles are used in kitchen, bathroom and balcony, matte tiles are generally used for floor laying, while glossy tiles are used for wall laying.Because of the wet place, waterproof and anti-skid is the most important, and the anti-skid performance of matte tile is very good, and the foot feel is safe and comfortable. Therefore, matte glazed tile is suitable for indoor and outdoor floor widely laying. And the cleaning of glossy tile is easier, the general stains can be removed by wiping with cloth, and the waterproof property is good. It can bear water splashing and not be damaged easily. Because of the high reflectivity of light, the high gloss tile is more suitable for laying in the dark space, so as to enhance the brightness of the light and make the indoor more bright and open.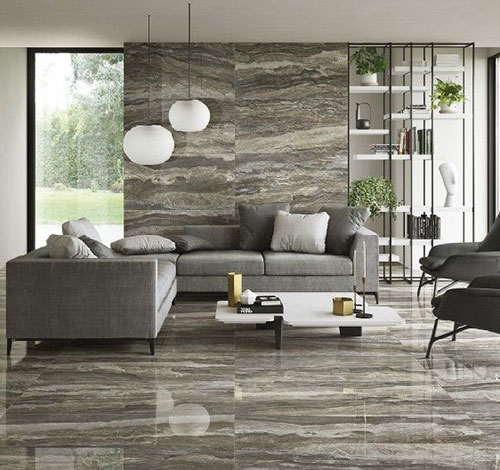 Which Is Better, Glossy Or Matte Finish Tiles?
There are a number of advantages and disadvantages associated with both types of tile finish. It all depends on the context, size, and lighting of the space, as well as the atmosphere you wish to create. But ultimately, the choice of matt or gloss tile comes down to personal preference. For a room to feel lighter and brighter, gloss tiles are the go-to. If you are keen to achieve a natural or rustic decor, matt tiles are the way forward. With a variety of stone, wood and cement effect tiles available, the warm, natural and earthy tones all contribute to the rustic effect. For those seeking a calming environment, matt tiles create a great place to relax and unwind.
If you can't make up your mind, why not integrate both finishes into your bespoke design to subtly mix light with texture, the soothing with the industrious, and the authentic with the contemporary?