Why Tile A Balcony - Benefits Of Tilling Your Balcony, Which Tiles To Choose
2020/8/24 11:39:50
A lot of people are very tangled about choosing tiles on the balcony, they ask "Can balcony not be tiled, what should I pay attention to when laying balcony tile"? From the point of view of practicability, the balcony is best to be laid with ceramic tile. After all, it's not a place to avoid the sun. On balcony laying tile matters for attention, let's take a look at the following article.
Related read: Balcony Flooring Ideas - How To Create A Perfect Balcony With Ceramic & Porcelain Floor Tile
Why Tile Balcony & Advantages Of Tilling Balcony
1.East To Clean & Maintain
Balcony is is a place where the probability of ventilation is high, dust is relatively more, install tile is more convenient to clean, you just need to wipe with a damp cloth which is a relatively simple and fast way to maintain their fresh look.
2.Moisture-Resistant
If the balcony is open, it will be more seriously affected by the weather, especially in the place with more rainy and humid weather. Long term drying clothes and moisture will also affect the balcony wall and floor. It is very common to get damp and moldy. The balcony that laid with ceramic tile won't let the floor become moldy and damp because of drying clothes.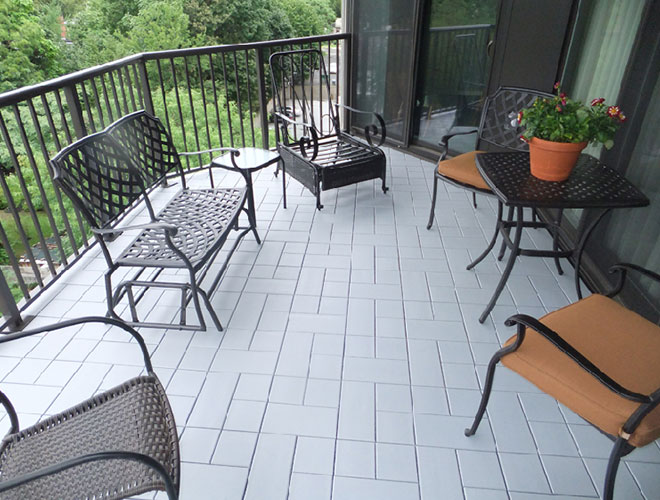 3.Good Looking
From the overall aesthetic degree of decoration, the overall coordination is still very necessary. Since the floor has been laid with ceramic tiles, it is better to stick it to the top directly, which is more beautiful and generous.
4.Practical
Balcony wall tiles can also be used as a kind of decoration, because the balcony tiles can not only be applied on the wall of the house, but also can be used to decorate windowsill. It can not only protect the position of the wall, but also protect the position of the room.
5.Highly Durable
Your balcony walls will last longer in their pristine condition if clad in ties. Materials such as natural stone and porcelain are hard, dense, highly durable, long-lasting and able to withstand the external weather elements.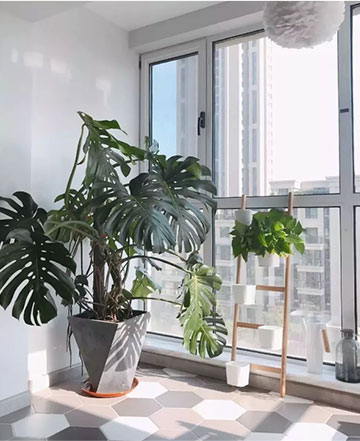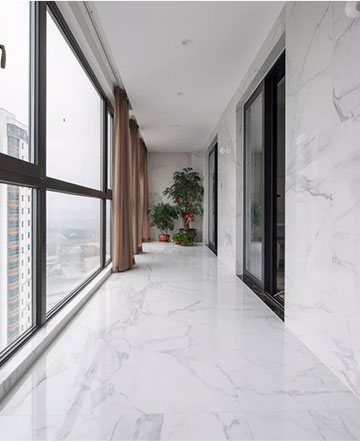 Which Tiles Are Best For Balcony?
The balcony is exposed to the sun for a long time, not only to be blown by the wind, but also to be drenched, so when choosing tile, we must choose tile with long service life. For example, the full body tile, polished brick, glazed tile, vitrified brick and so on.
Polished Tile. This product has won the favor of the majority of consumers for its unique quality: glossiness, skid resistance and wear resistance. Polished tiles are widely used in home decoration, hotels, shopping malls and other public places.
Tiles With Green Environment. The world is talking about environmental protection, and modern civilization also reminds people to consider their own safety more while protecting the environment. Ceramic tile factory in reducing costs at the same time, must not reduce the quality of raw materials. When consumers buy ceramic tiles, they are also concerned about whether the products they buy meet the requirements of environmental protection and whether the radiation degree exceeds the human body's bearing capacity. In this way, it also allows more ceramic tile manufacturers to carry out green qualification certification, so that consumers can buy more at ease.
Large Size Tile. Nowadays, the area of house purchase by residents is becoming larger and larger, and small-sized ceramic tiles can no longer meet the requirements of home furnishings. The size of indoor wall tiles is generally 300×600mm, and the floor tiles of living rooms are generally no less than 600×600mm. If the living room area is more than 40 square meters, the requirements for floor tile specifications are greater.
Artistic Ceramic Tile. Nowadays, people's requirements for the design and style of ceramic tiles have developed from traditional flat tiles, simple flowers and trees to three-dimensional patterns.

Foshan China ceramic & porcelain tile manufacturer Hanse

produces a set of

tiles with three-dimensional effect

, we ingeniously integrated 3D inkjet technology, art and ceramic tile production technology to innovate 3D art tiles, opening the 3D perspective effect of ceramic tile industry. Turn your walls and floors into works of art that stand out and make a statement.
What Should Be Paid Attention To For Balcony Tile Installation
When installing balcony tile, the ceramic tile should not be stained with water as far as possible. According to the vertical line and horizontal line, 6 - 8mm mortar joint shall be reserved and pasted firmly, and then grouting sealant.
After the grouting, the mortar joint shall be cleaned to highlight the three-dimensional sense of the tile. When the residual cement on the surface of the tile must be white (that is, when it is dry but not solidified), the surface cement shall be wiped with a dry cloth.
Water soaking for tile is a very important step. No matter whether the quality of ceramic tile is good or bad, there will be many tiny gaps. When using it, it has certain water absorption. If the water soaking treatment is not carried out or the soaking water is not sufficient, it will be laid directly, which will lead to the problems of hollow drum and tile falling off.