2021 Kitchen Colors Trends - What Kitchen Colors & Materials Are In For 2021
2021/2/8 10:12:15
The kitchen is the place that best reflects the lifestyle of a family. A person who loves and enjoys life must not be reconciled that the kitchen can only satisfy the desire for the fullness. In 2021, which has just kicked off, what new trends will the kitchen have? Based on the latest cases, Hanseceramictile has estimated top trends in kitchen materials and colors in 2021. Let's take a closer look!
2021 Kitchen Colors & Materials Trends - Newest Kitchen Design Trends
In modern design houses, where the open layout connects the kitchen with the dining room and living room. it is essentially the colors of the materials and the range of functions that determine the sound of the home design combinations. Here are top kitchen trends 2021 with materials, colors & ideas.
1. Kitchen Color Trends For 2021 - What Kitchen Colors Are In For 2021?
The kitchen design in 2021 will break the situation that classic color matching has been dominant for a long time, and choose energetic colors to announce the fashionable attitude of the kitchen, so as to make the cooking time more pleasant.
Green
Green could be one of the most popular colors for kitchen cabinets in 2021 and will become a new key style, such as gasoline green, moss green, sage green and Hunter Green can not be ignored, balanced to add some metal tone, can bring freshness to the kitchen. Green will be softer as the main hue of the new generation in 2021, but it is clear that this color series will continue to exist.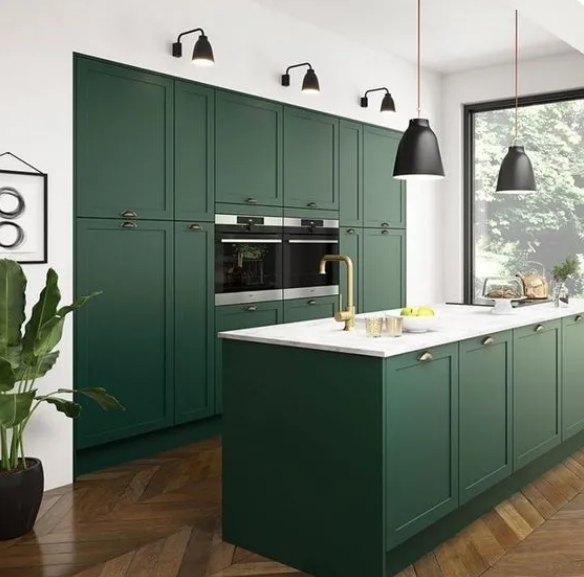 Dark Color
Similar to dark blue, this dark color is also a trendy kitchen color. It can form a sharp color contrast with kitchen furniture and electrical appliances. It can not only match modern decoration but also match the color of old houses.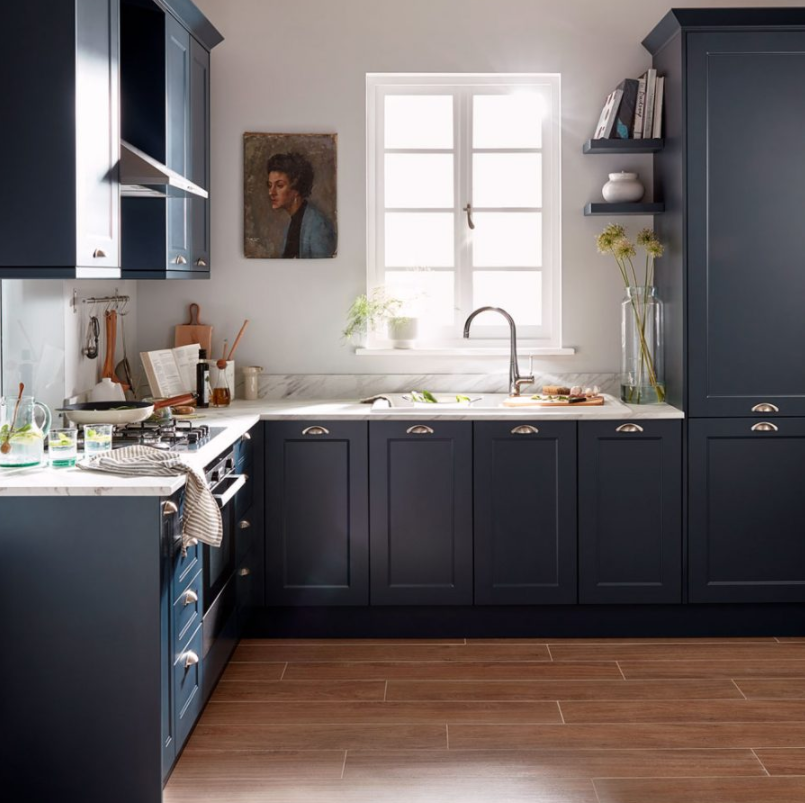 Matte cabinet surface began to emerge, exquisite dark stone and granite or marble give obvious sense of hierarchy, and the color is slightly different, thus forming a deep sense of delicacy.
Red
Red is a somewhat surprising shade for kitchens in 2021. Colourful Kitchens are set to be a huge trend for 2021. As we spend more time indoors looking for colour to enhance our mood. It seems like we've been staring at the same four walls for some time now, 2021 is all about taking risks with interiors, creating a new and very different feeling environment. 'Shades of red may seem daunting in the kitchen but the beautifully elegant muted red is the perfect combination of style and comfort. By pairing with neutral greys, truffles and cashmeres, families can experiment with daring colour without it being over powering.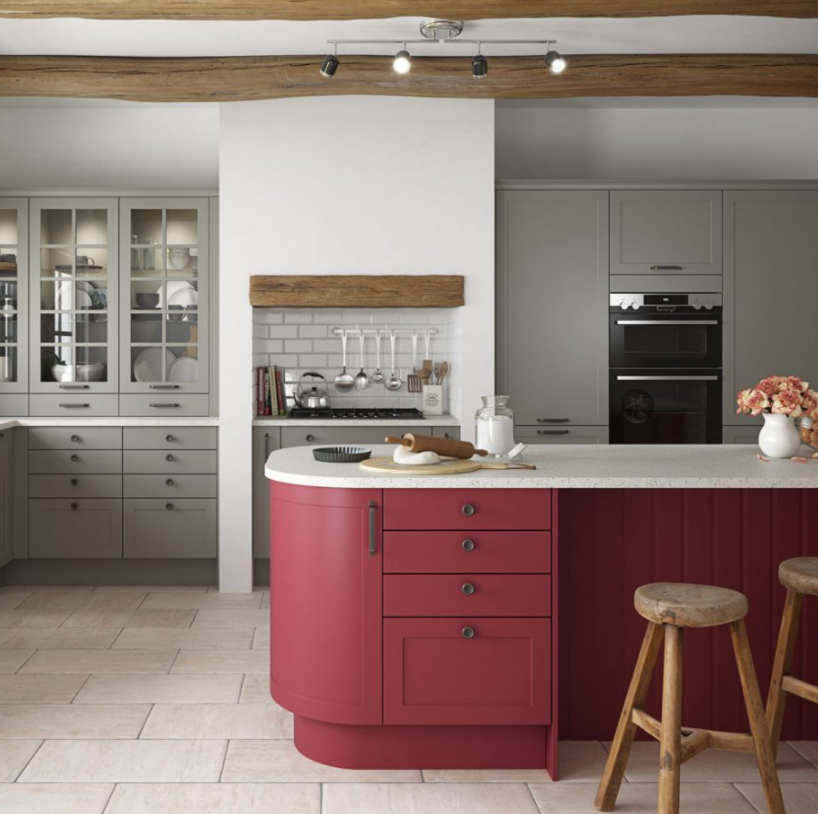 Classic Black & White
However, don't forget the classic elegance of black and white, which can be perfectly combined with wood or metal decoration style. A new application of white is the introduction of light focus on bleached wood or stone surfaces.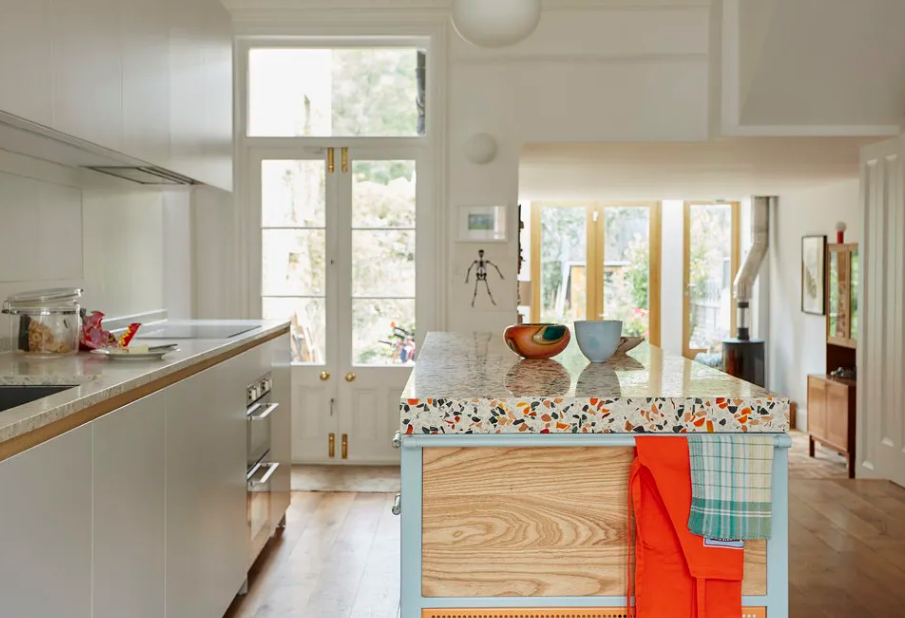 Black is usually used as inconspicuous metal frame and decoration, which can be traced back to the design trend of the bathroom. The black frosted hardware is a kind of fashion, and now it has been extended to the kitchen.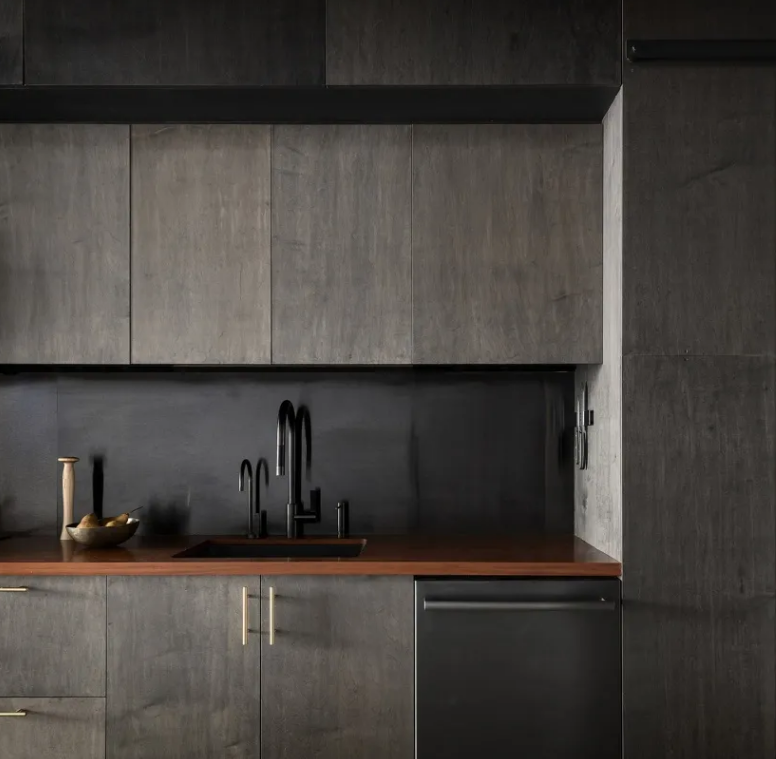 In addition, double color kitchen, three-color kitchen and even more mixed color kitchen will open a better life.
Multicolor Combination
Jumping colors are more eye-catching, but they should not be overused. For example, a mixture of three contrasting colors can easily create a sense of disharmony. Choosing the same color system and different purity colors to match will look more refreshing and leave a beautiful impression.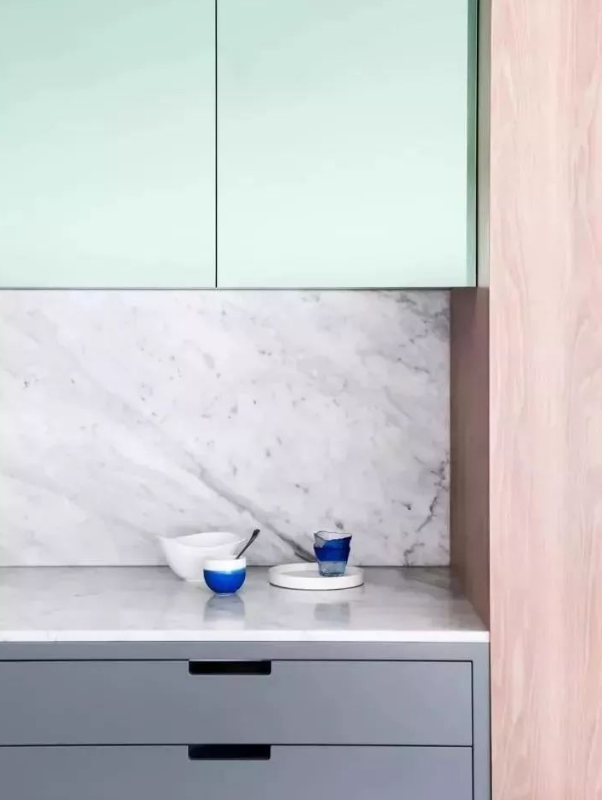 2. 2021 Kitchen Material Trends - What Are Popular Materials For Kitchen 2021?
Composite stone and marble tiles are very popular for kitchen countertop, floor, wall or backsplash. Combined with wood and laminate to form a uniform color, they have a very clean and fashionable appearance. Another possibility for a luxurious combination of marble and stone is to add stainless steel or high gloss materials. The common ones are granite, marble and other natural stone countertops. Because they have a variety of colors and patterns, and have the advantages of high hardness, wear resistance, and long service life, they are still active in the kitchen space, creating a unique and quality kitchen.
Granite Tile Countertop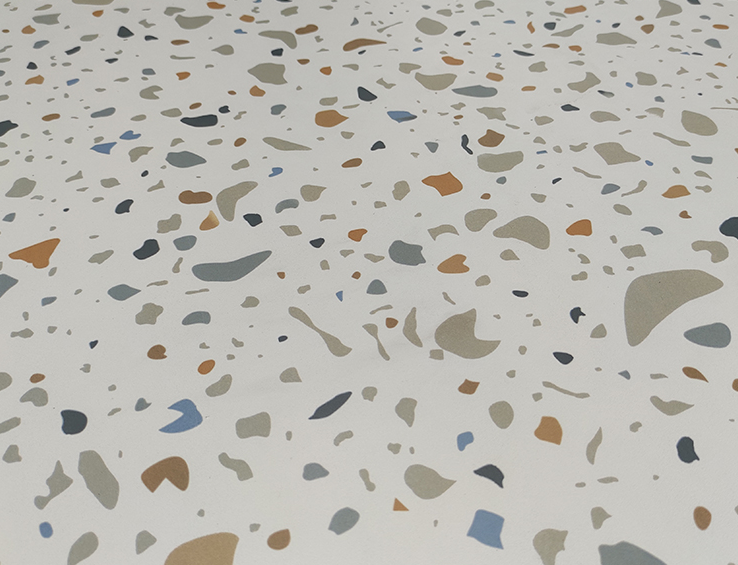 Marble Tile Countertop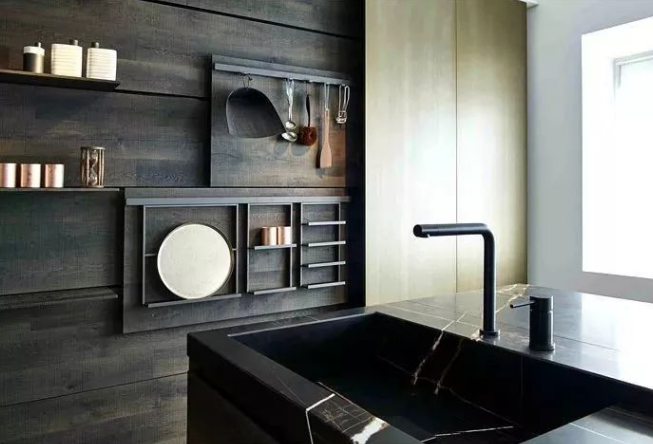 Wooden Countertop
The warm and simple wooden countertop is more and more popular with modern people. The first choice of wooden countertop is solid wood, as well as fireproof board, particleboard and other materials can be applied to the kitchen countertop. They give people a feeling of being close to nature, and bring good tactile feeling and aesthetic experience. But these materials in the necessary moisture-proof, wear-resistant, high-temperature treatment, but also need reasonable use and maintenance, otherwise leave ugly marks, stains, will greatly damage the kitchen decent and beautiful.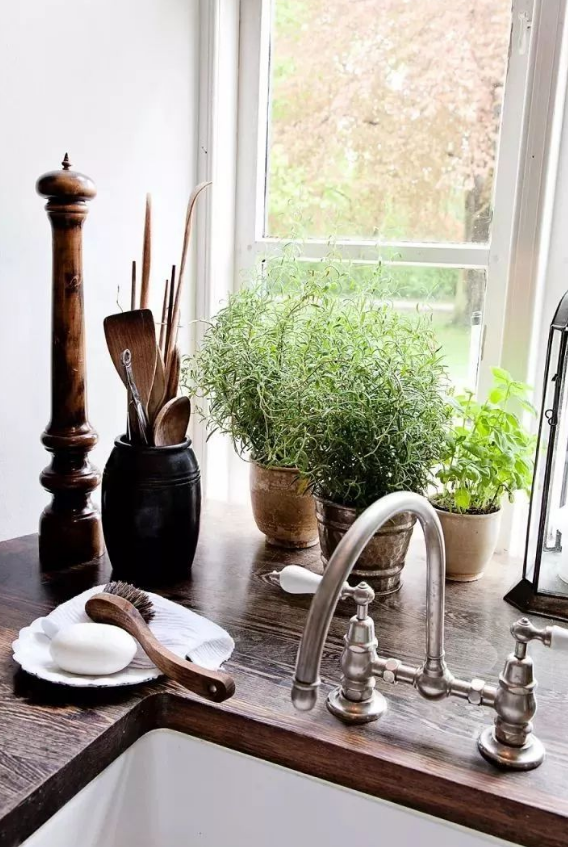 Granite Sink
The gradual popularity of granite sink is also a popular trend of kitchen decoration in 2021. Compared with the traditional stainless steel sink, granite sink is more beautiful and easier to integrate with different kitchen styles. It can not only add elegance to the kitchen, but also create a personalized home style, making the kitchen have its own distinctive characteristics.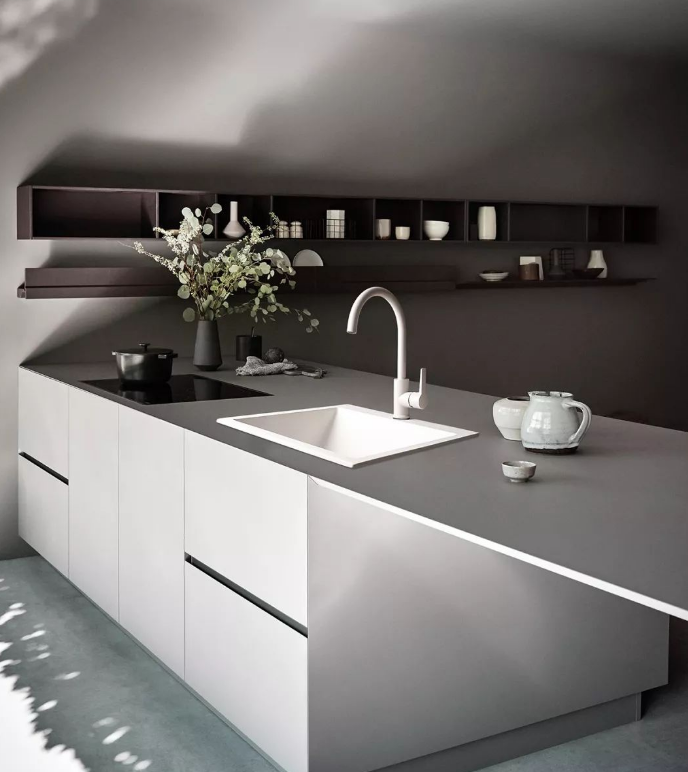 3D Tiles
Flat surfaces for kitchen are a thing of the past, thanks to the rising trend of 3D tiles. And Hanse's collection of 3D tiles has gone straight onto our shopping list. With an artisanal feel, 3D tile is available in 15mm x 600mm, 200 x 300mmtiles and comes in more than 10 shades, including Red, Brown, Gold and Grey. The tiles will give clever depth to kitchen walls, whether you're after elegant modernity or vintage chic.
3. Best Kitchen Design Ideas
Combination of metal texture and color surface
Metal can not only be used as the decoration of lighting, electrical appliances and accessories, but also as a part of the cabinet, island platform and so on. As a result, metal materials give a unique charm to the design of modern kitchen.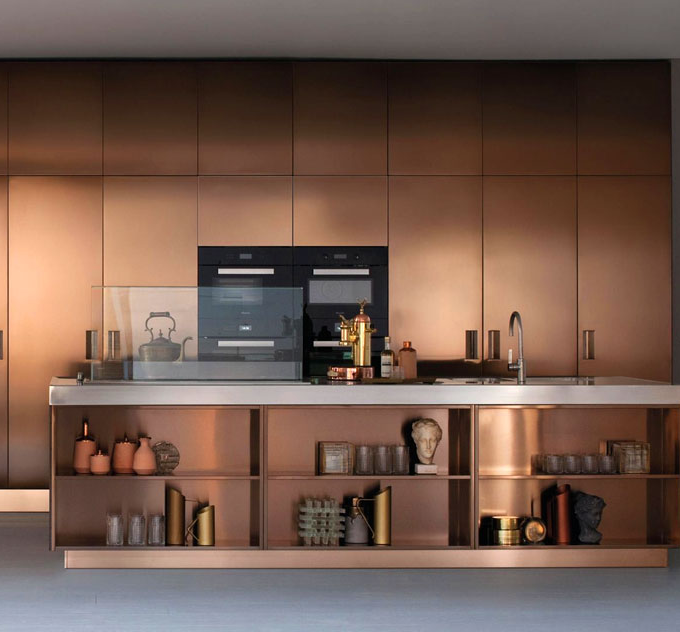 Visually lighten the top of the cabinet
In this space, the designer uses a hanging metal frame with a glass cabinet with lighting to provide spacious visual space for the top cabinet. This is one of the creative ways to get rid of the classic and boring layout of the lower and upper kitchen cabinets.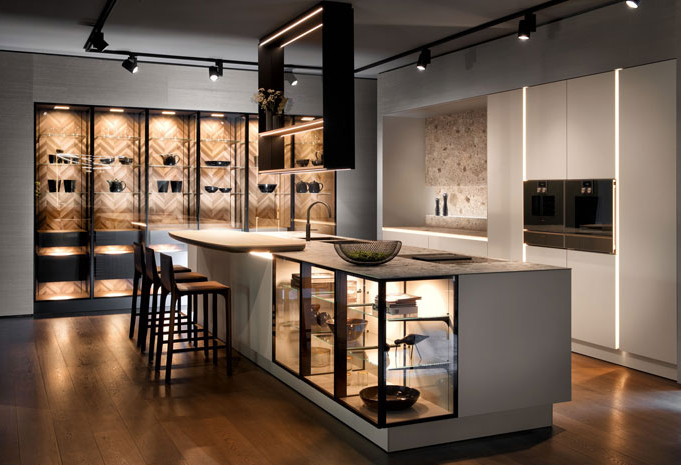 The interior lighting of the glass cabinet is not only practical, but also brings a luxurious atmosphere to the decoration combination. In this kitchen project, the glass shelf at the bottom of the kitchen island increases the brightness and ventilation of the whole space.
The large use of small space
The limited urban space and shrinking apartment trends in big cities have created innovations in home improvement. Essentially, this case is a monolithic furniture unit with three zones.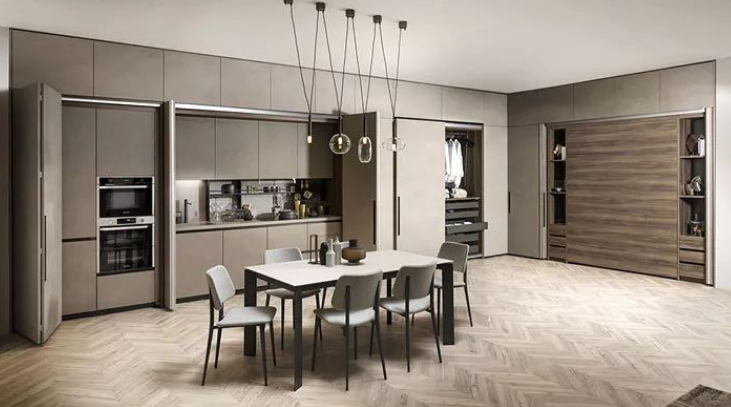 The kitchen, living room and bedroom are all combined into a flexible wall-to-wall structure. After closing the wall panels, all traces of the kitchen will disappear, and the remaining space can be used as a living room, dining area, or even a bedroom.
If you want to decorate your home with an excellent kitchen, you can refer to these kitchen design ideas. I hope you can dig out more possibilities from them!