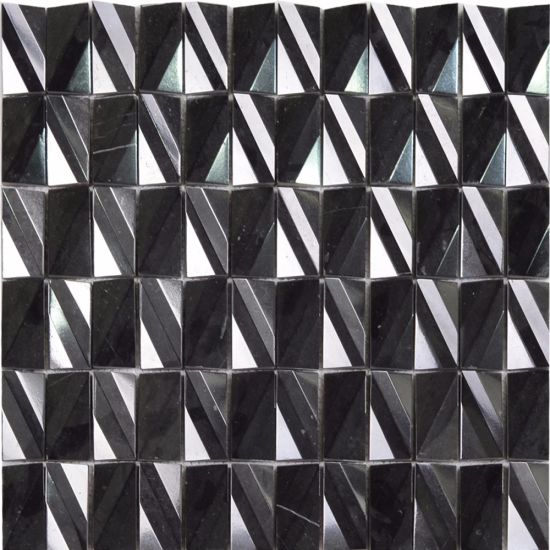 Black Polished Marble Tile
Product Details
Model Number

YQ1090S

Type

CE

Thickness

4mm

Colortype

6mm

Decorative

ISO

Surfacetreatment

Wall

Brand Name

Hanse

Brandname

Hanse

Modelnumber

Hanse

Shape

Square

Technique

Widely

Colorfamily

YQ1090S

Pcs/Box 2

for Wall

Place Of Origin

Guangdong

Province

Guangdong

Usage

300x300mm

Pcs/Box 1

New Mosaic

Trademark

4mm for 22

Transport Package

6mm for 14

Specification

8mm for 11

Pcs/Box 3

Stone Mosaic

Certification

8mm and So on

Style

American Style

Size

Customized Size

Design

Fiberglass Mesh

Mounted Technique

Same Color System

Material

Wooden Crate/ Plywood Pallet
Product Description
Hanse customizable size black polished square new mosaic ceramic floor tile is rich in unique textures and popular easy to match colours, presenting a natural and beautiful look that meets current decorating trends. The pattern sets the tile apart but is suitable for common exterior and interior applications including residential, commercial, living room, bedroom, kitchen, bathroom, dining room, hotel and more. Fine texture, smooth surface, high hardness, good wear resistance and corrosion resistance, high-grade materials, excellent durability and reasonable price are the advantages of our tiles. You can choose Hanseatic wood grain/imitation marble/swimming pool/mosaic ceramic floor tiles in many colours and sizes as needed to create a modern or retro, harmonious or maverick style for your space.
Product Overview
-Stone mosaic tile (Model: HQB6817) is suitable for indoor or outdoor floor decoration or exterior wall decoration.
-Stone mosaic is a special high-tech product, including glazed tile and tire colour pattern, with complete specifications and perfect matching.
-Mosaic has a variety of patterns, such as stone, turtle skin, etc. And it is sparkling, translucent, bright and clean.
-Stone mosaic is zero water absorption, most suitable for bathrooms, kitchens, etc. Wall and floor decoration, and because the specifications of the mosaic
small, mosaics can be spelled out in a variety of beautiful colours, gradients and patterns.
- Tile has a variety of features or effects, such as stone, marble, wood, etc.
- Our tiles comply with ISO9001 certification, CE certification, CCC certification and ISO14001 environmental management system certification, etc.
- High-grade and durable materials and strict quality control system ensure the quality and safety of Hanseatic tiles.
- The tiles look classic, follow the trend of the times and have their own taste.
- The finished tiles make you feel clean and soft and easy to use.
- Hanseatic tiles do not contain harmful substances and are safe to use.
- High hardness, wear resistance, corrosion resistance, waterproof, fireproof and anti-slip.




Product details:

Tile Certifications
About Hanse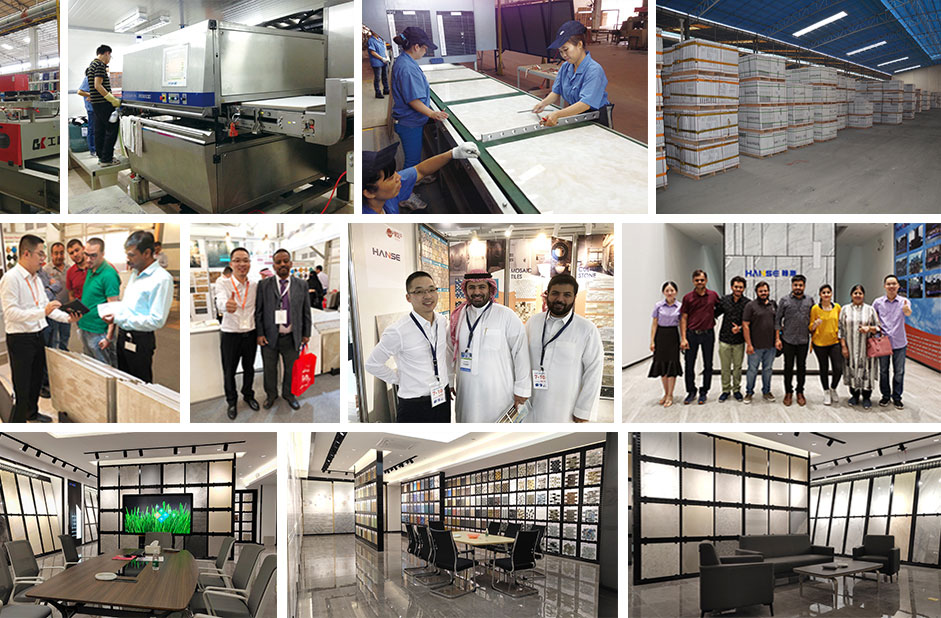 Our Services
Free Sample

Free sample order is provided, but the transportation fee should be paid by yourself. We ship the goods via Guangzhou port.

Design Scheme

We offer design scheme and effect drawing, helping you realise your vision for the most beautiful, effective and functional environments.

Product Types

Our products for sale including: bathroom accessories, sanitary ware, lamps, sockets, ceramic tiles and kitchen cabinets products.

Online Showroom

For more products please feel free to contact us. We accept online video chat that(whatsapp/wechat: +13927765473) you can get closer to visit our showroom and we'll show you all of our ceramic tiles, switch & socket, lighting, sanitary ware, bathroom products and cabinet products.
Featured Reviews
Logistics is also very awesome, the quality of ceramic tiles is very good, the tiles are received, the packaging is solid, no damage, the surface is smooth and anti falling, it is very beautiful for terrazzo, much cheaper than other brands of tiles.
The goods have been received. The quality of the tiles is good. I will buy the tiles from this shop in the future. Because there is a seam in the middle of the tiles, in order to drain the water better, I will make my own sewing glue. It's very sticky, but it's a bit rough. The spacing of each grid is different, so it's hard to put it together neatly. It's very easy to cut. You can cut it with a knife.
Tiles received, tiles better than imagined, really feel is cheap, like friends can start. The delivery of ceramic tiles and tiles is quite fast, the quality is very good. Hanse's packing is tight and undamaged.
Tiles received the logistics and customer service description are consistent very quickly and well used. After that, the whole living room has been upgraded very well. Tiles are delivered very quickly, logistics is very fast, packaging is tight and intact, material is very good, I like it.
Home new house decoration, so bought this tile back to install, the seller's service attitude is very good, delivery speed is relatively fast, tile quality and style have nothing to say, it's really great. The quality of tile floor tile is very good, the sleeve surface is smooth and flat, and the pattern is clear and beautiful. The tile effect is very good, and the anti-skid effect is also very good. Friends in need can quickly place an order.
That is to say, the tiles look very flat (all tiles will have a bow, (some are worse than others), but I have no problem, as far as style is concerned, the pictures on the website are just unfair
The paving effect is very ideal, and the price is much cheaper than that of other brands of local building materials. I feel that I should be careful when I buy it. The tiles are packed tightly without damage. The effect of laying them in the yard is very good. They will come again if necessary!
The quality of ceramic tile is very good, and the appearance is beautiful. The main reason is that the environmental protection of materials makes customers feel at ease and the surface is smooth and flawless. The seller is very patient, the logistics is also fast a purchase! The quality of ceramic tiles is really good. To be honest, the lines are clear and glossy. I like the color very much. It has texture and atmosphere. I'm very satisfied with the color matching with my home decoration style.
(we also use the DeLorean mortar suggested by others here. It's a perfect match. They don't carry Tec AccuColor, but we use the DeLorean gray regular Tec mortar (cheaper). My husband is very satisfied with this
Tile packaging intact, good quality, good anti-skid effect, cheaper than the store, very satisfied! Tile floor tiles received, atmosphere, on the grade, quality is very good, choose your home.
Load More
Related Products