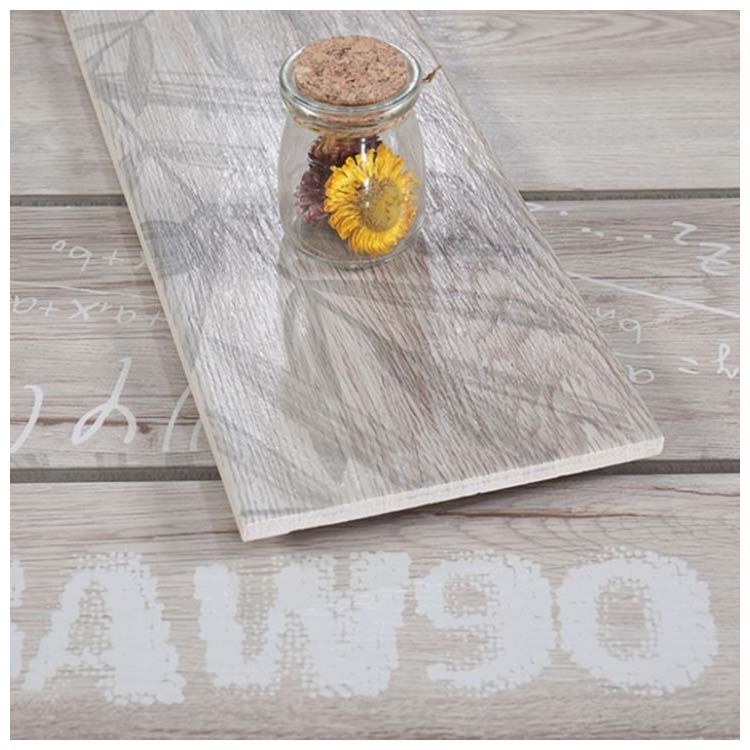 Grey Glazed Ceramic Wood Tile
Product Details
Model Number

HMF815756H

Brand Name

Hanse

Brandname

Hanse

Place Of Origin

Guangdong

Province

Guangdong

Modelnumber

HMF815756H

Size

150 x 800mm
Product Description
You can enjoy the organic beauty of the grey ceramic wood look wall and floor tile from HANSE whether you live in a cabin or a gorgeous property in the city or suburbs. This wood effect ceramic tile comes in a 150 x 800mm plank with a genuine woodgrain glazed finish, mild roughness, and shine. The wood-like tile's rich brown colors make it simple to infuse color into your decor. The wood grain plank tile's durability can be appreciated as a wall or floor tile in almost any room of your home. Achieve the classic, rustic look of wood in your office, restaurant, department, bedroom, bathroom, living room, or kitchen with this wood look tile from HANSE.
Product Review
HANSE Ceramic tiles, come in a variety of sizes, shapes, colors, finishes, and styles to suit any preference, one of the most popular and adaptable materials, provide limitless possibilities. Our wood-look ceramic tiles can be used to create a rustic vibe, floral-patterned tiles can be used to create an outstanding accent wall, and faux-stone tiles can be used to create the illusion of marble.
- To match the overall tone and style of your space, this Glazed Ceramic Wood Tile collection is available in a variety of colors: grey, light grey, beige, brown, dark brown, etc.

- This tile can endure moderate to heavy activity thanks to its high P.E.I. rating, making it ideal for all residential and medium-traffic business floors and walls.

- This quality grey glazed wood pattern ceramic tile is extremely adaptable, as it can be used on both the wall and the floor in kitchens, baths, living rooms, restaurants, offices, outdoor, and a variety of other private and public spaces!

- Our wood look ceramic floor is green and harmless and is certified under various environmental and quality assurance standards such as ISO9001, CE, CCC, and ISO14001.

- As a professional tile manufacturer, Hanse can customize the colors, sizes, patterns, and other features of wall/floor tiles to fit your project's exact requirements.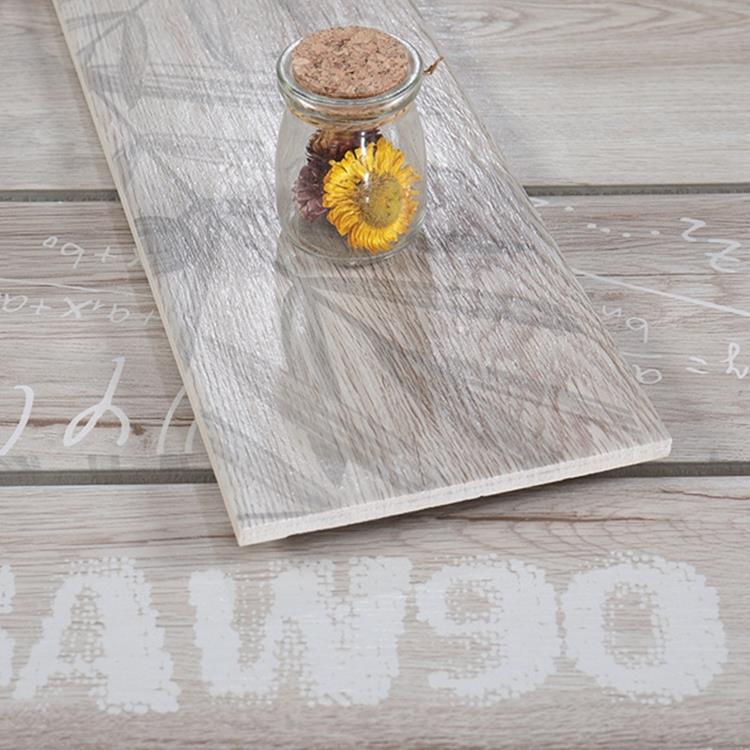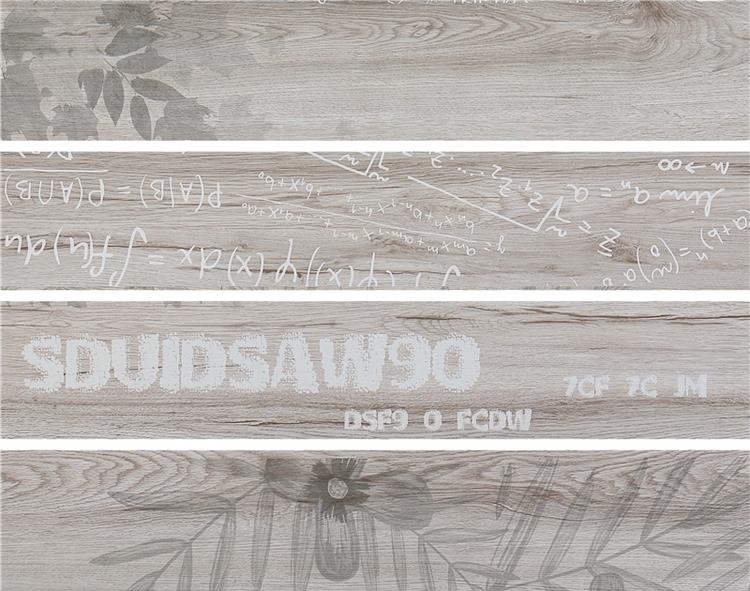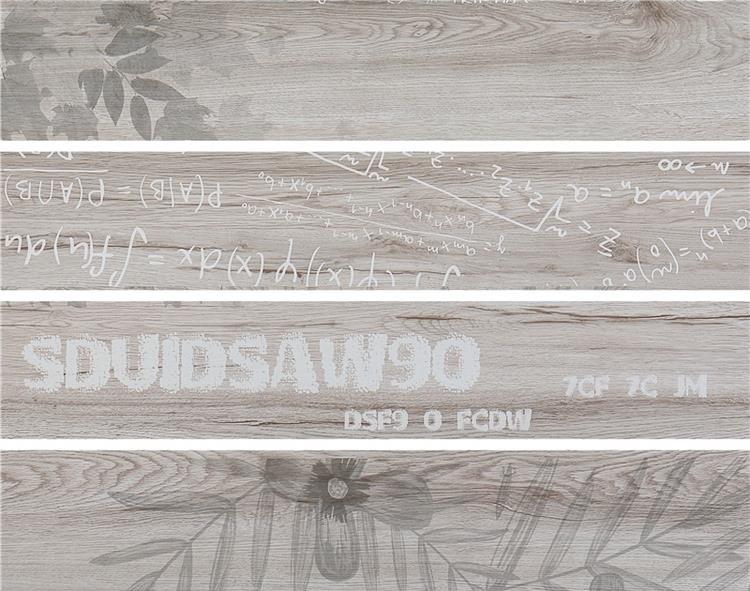 Tile Certifications
About Hanse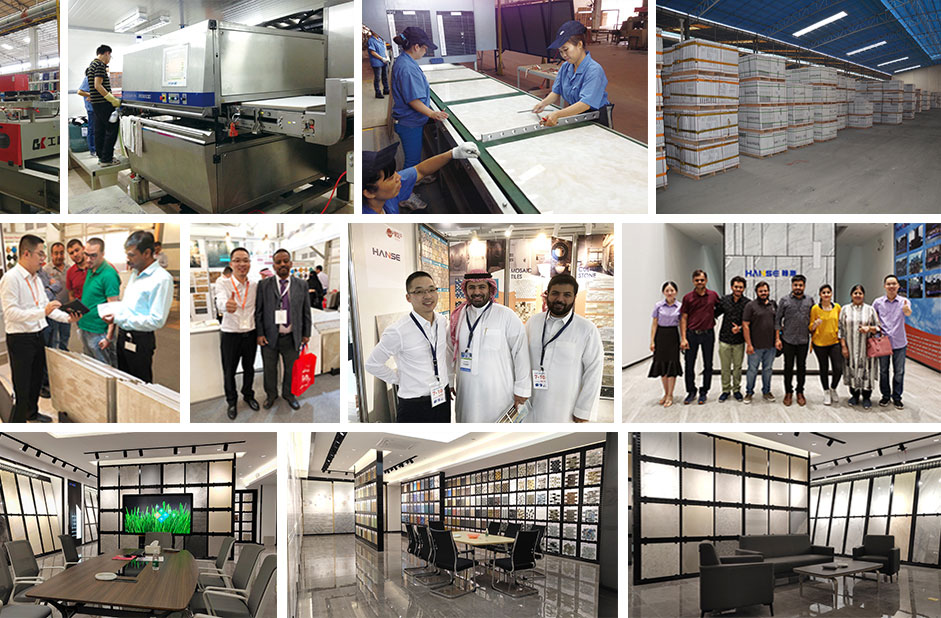 Our Services
Free Sample

Free sample order is provided, but the transportation fee should be paid by yourself. We ship the goods via Guangzhou port.

Design Scheme

We offer design scheme and effect drawing, helping you realise your vision for the most beautiful, effective and functional environments.

Product Types

Our products for sale including: bathroom accessories, sanitary ware, lamps, sockets, ceramic tiles and kitchen cabinets products.

Online Showroom

For more products please feel free to contact us. We accept online video chat that(whatsapp/wechat: +13927765473) you can get closer to visit our showroom and we'll show you all of our ceramic tiles, switch & socket, lighting, sanitary ware, bathroom products and cabinet products.
Featured Reviews
I'm a very picky person when I buy Tiles. Every time I buy something back, I have to check it to see if there is any quality problem. Will it be described differently? The quality is very good and the price is good. Recommended, tile texture is hard, glossiness is high, texture is clear and flawless, price is affordable, very satisfied.
I'm not sure about the individual works of this tile, but people are its beautiful layout, we are using Mocha grouting and 1 \ / 8 spacing, like other recommended tiles, very beautiful. The quality of tiles is good. I need to come back later.
I have received the tiles. The tiles are really good, and the price is not expensive. I just bought them for a look. If they are good, I'll buy them again. I'll place an order immediately. The quality and workmanship of the tiles are good, and the price is cheaper than the real ones. It's very tall in the living room.
Tile received, very good, color is very like, the buyer is very good, tile pattern is super beautiful, I like the color and pattern very much. Quite satisfied with the thickness of the floor. The price is also reasonable. Very satisfied.
Tile just received, it's not bad. It's for my friend who bought it and has sent him pictures. He also saw the link and sent it to him. Thank you very much for the considerate service of customer service. It's worth buying. The quality of tile is very good, the flatness is OK, the appearance color is the same as the pattern, the packaging is very good, the logistics is very fast, and I like it very much.
I didn't expect Hanse to be so patient to solve the problems for me one by one. The size is very suitable, the material is also very good, the logistics is very fast, the bluestone board has strong skid resistance, and the appearance is also very beautiful. It's much cheaper than other brands of ceramic tiles, which feels very good.
The color of ceramic tiles is good, the quality is also good, the packaging of ceramic tiles is good without damage, the quality is good, the glaze is beautiful, the color is smooth, the size is accurate, the price is affordable, very satisfied.
Tiles and tiles are of good quality, bright luster, no color difference, non slip, high-end atmosphere. I am very satisfied with the quality of tiles and tiles. The workmanship is super exquisite. My brother's new house is going to use his tiles. There is no color difference and smell. I like them as described by the store.
This year, as like as two peas, the gray tiles are very popular. The grey tiles are very atmospheric, simple, gloss, and beautifully decorated. They are exactly the same as sellers. The sellers have a good service attitude, and are careful in packing. They are not damaged at all. The quality of ceramic tiles is very good. The texture is very clear, and the sense of three-dimensional is strong. The effect of the placement is very satisfactory.
The tiles are very good, the consultation reply is very fast, and the express package is also very good. The effect is also very good. I like it very much. When the big garden comes, we will give you a discount. The ceramic tile material is thick, solid and durable, with novel style, antiskid and wear-resistant.
Load More
All Colors
Related Products