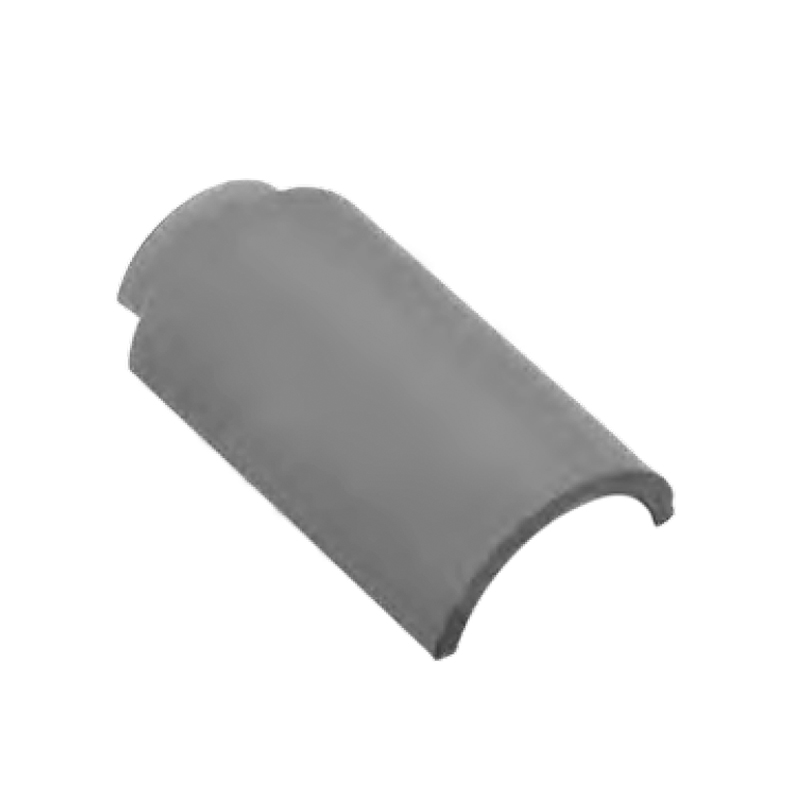 Grey Good Quality Clay Roofing Tiles For Houses Roof Building Materials
Product Details
Model Number

003-A135

Projectsolutioncapability

Others

Certification

ISO9001

Warranty

2 years

Type

roof tile

Designstyle

Traditional

Application

Villa/Temples

Size

Customized Size

Style

grey-green roof tile

After-Saleservice

Online technical support

Name

roofing tiles for houses

Shape

square/arched/cylindricity etc.
Product Description
good quality clay roofing tiles for houses roof building materials


The ancient building roof tiles can be fireproof, and it can resist wind and rain.
Even if ultraviolet rays are irradiated and acid rain is eroded, the color of the bricks will never fade,
and the brick buildings can experience wind and rain for a hundred years.
The roof tile has the function of absorbing and dehumidifying. The pores distributed in the it can absorb and discharge external moisture.
The tile body releases moisture during the day and absorbs moisture at night.
The moisture absorption and desorption function of the tile helps to keep the local environment moist and avoid moisture.
Quickly evaporate and cause the air to dry, and can also avoid condensation on the wall.
And the heat conduction effect of this kind of roof tile is also much higher than other materials.
Buildings built using the ancient Lujiang Hui style roof tile can adjust the temperature and are very comfortable.
Type

grey-green roof

Normal Size

main cover tile

200x200x10mm

main bottom tile

180x110x55mm

face cover tile

220x205/240x230mm

face bottom tile

190x110mm

Manufacturing Method

extruded,glazed,fired in tunnel kiln

Prdssure Resistance

resistance to compression>1800N

Temper Resistance

high temperature fired in kiln≥1250℃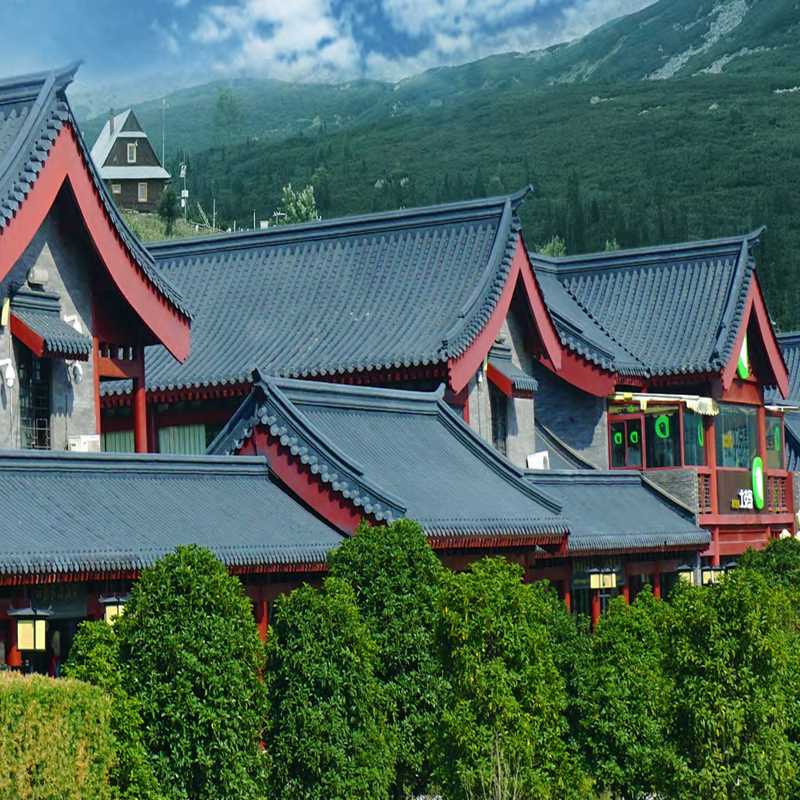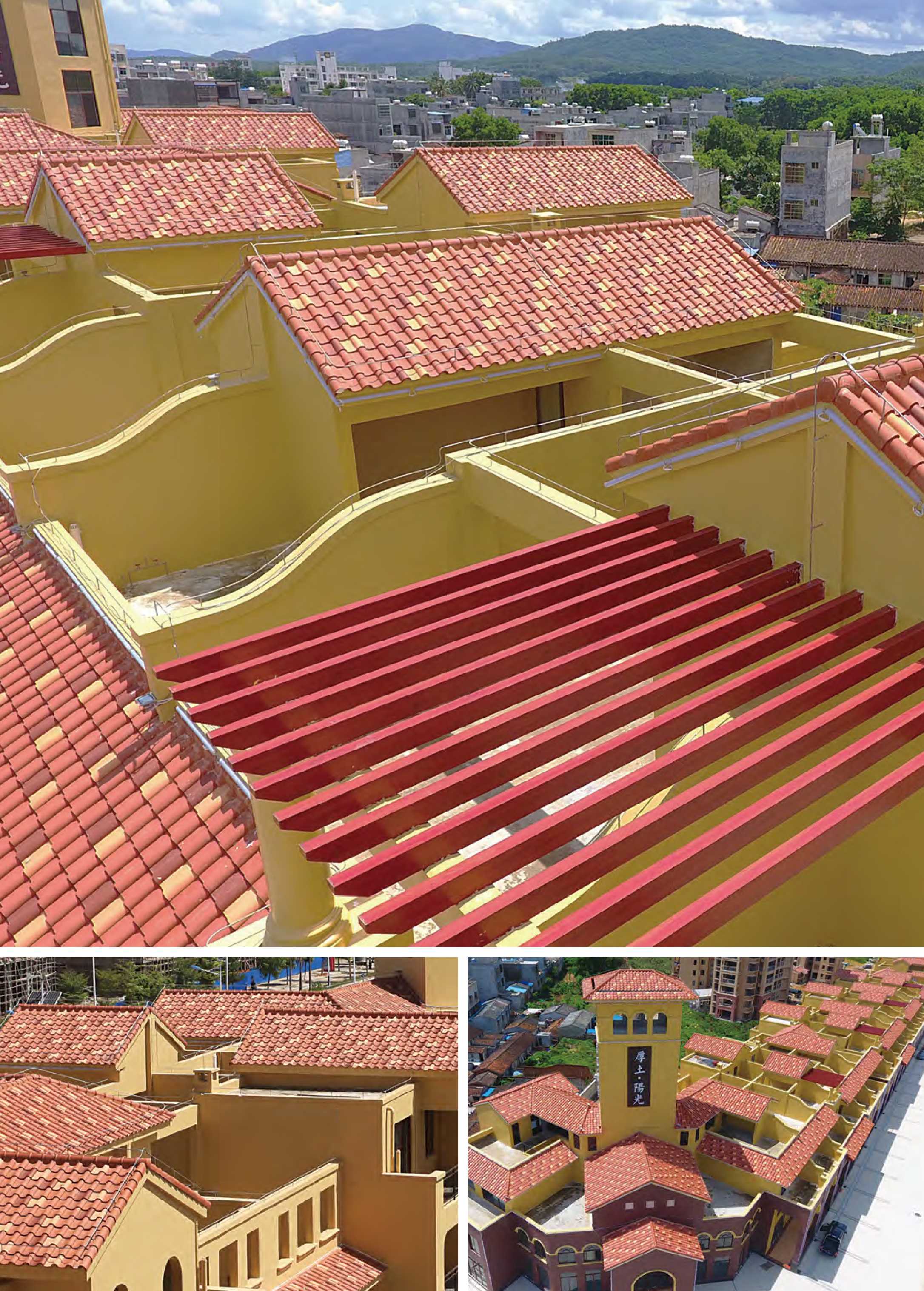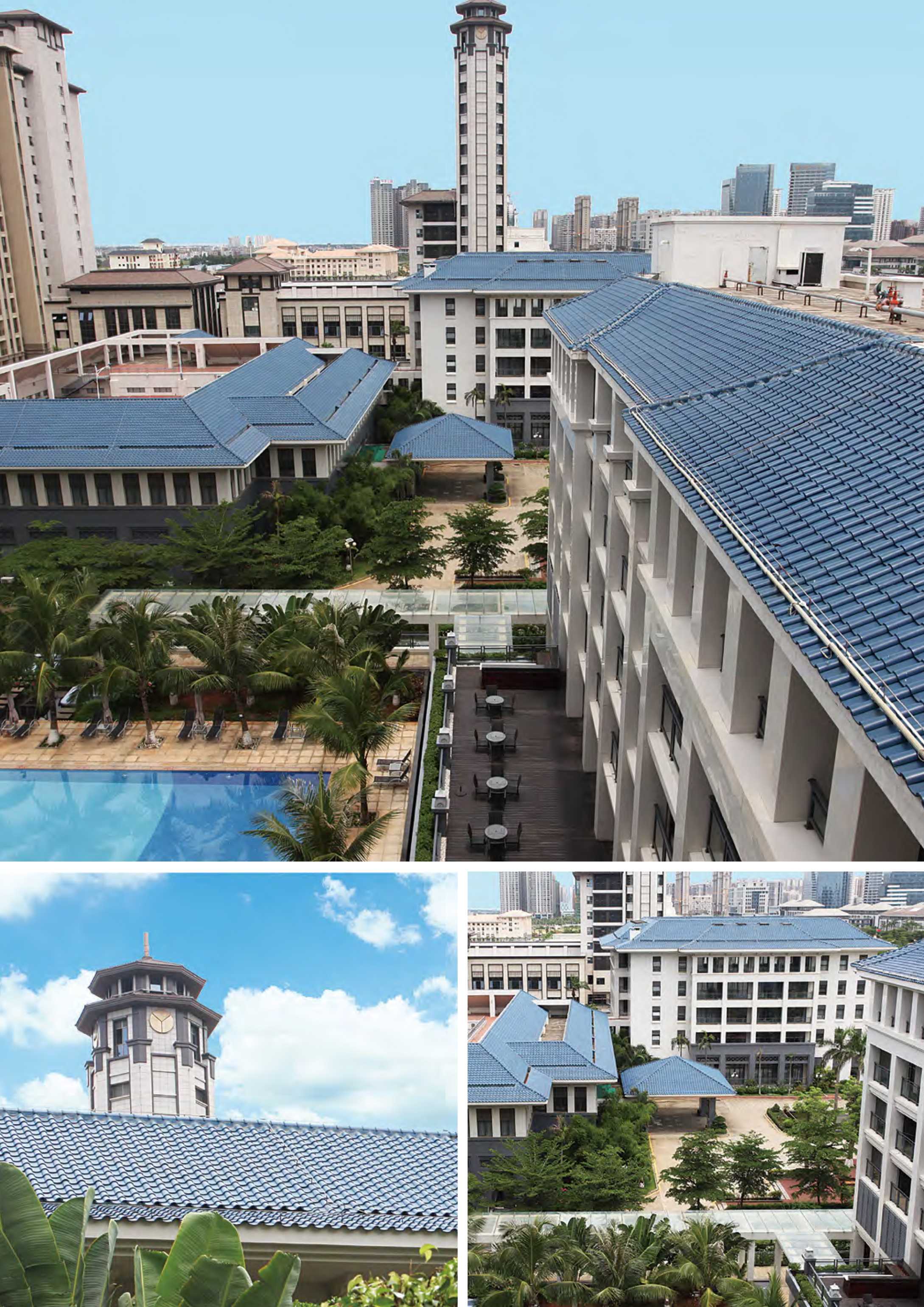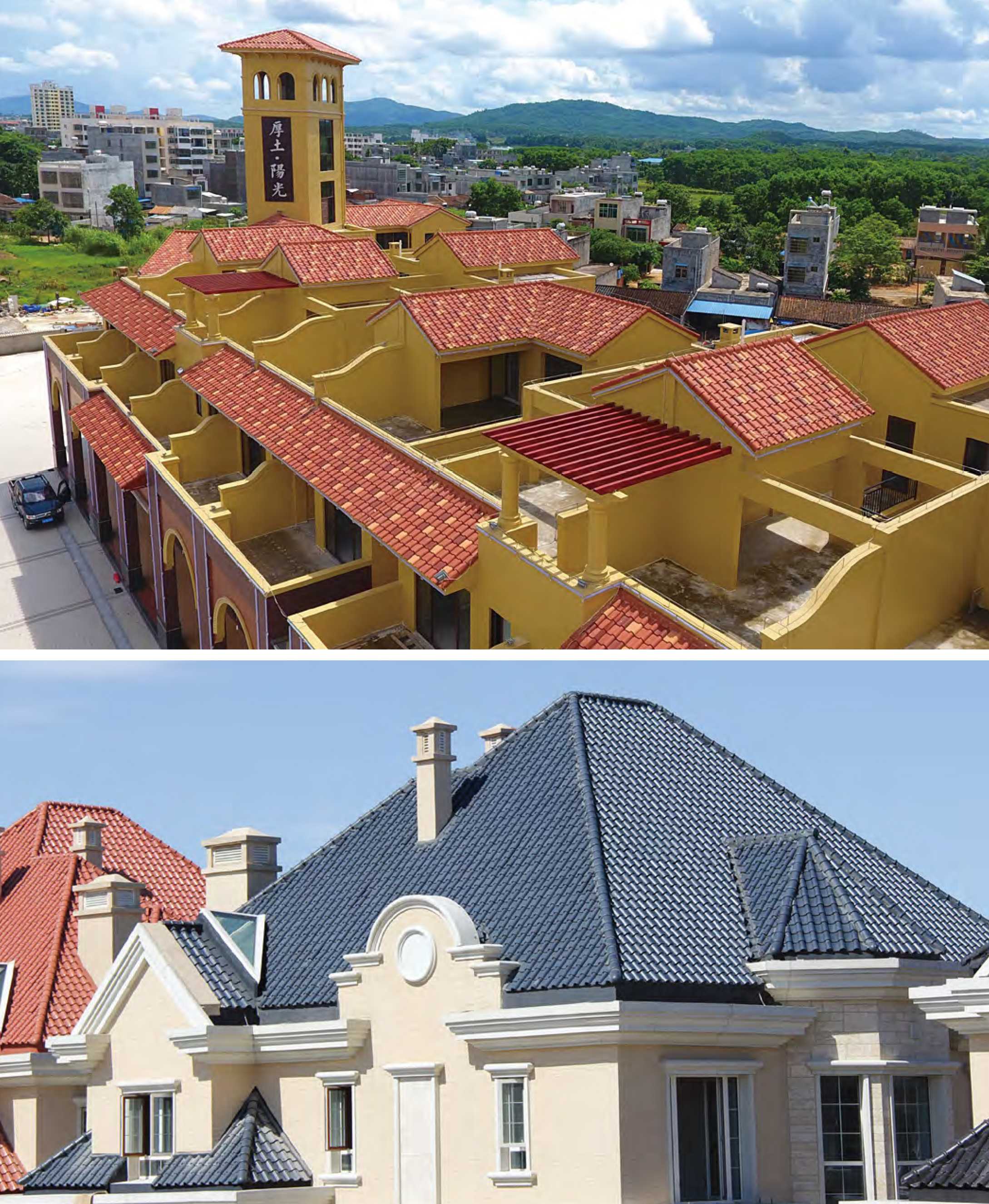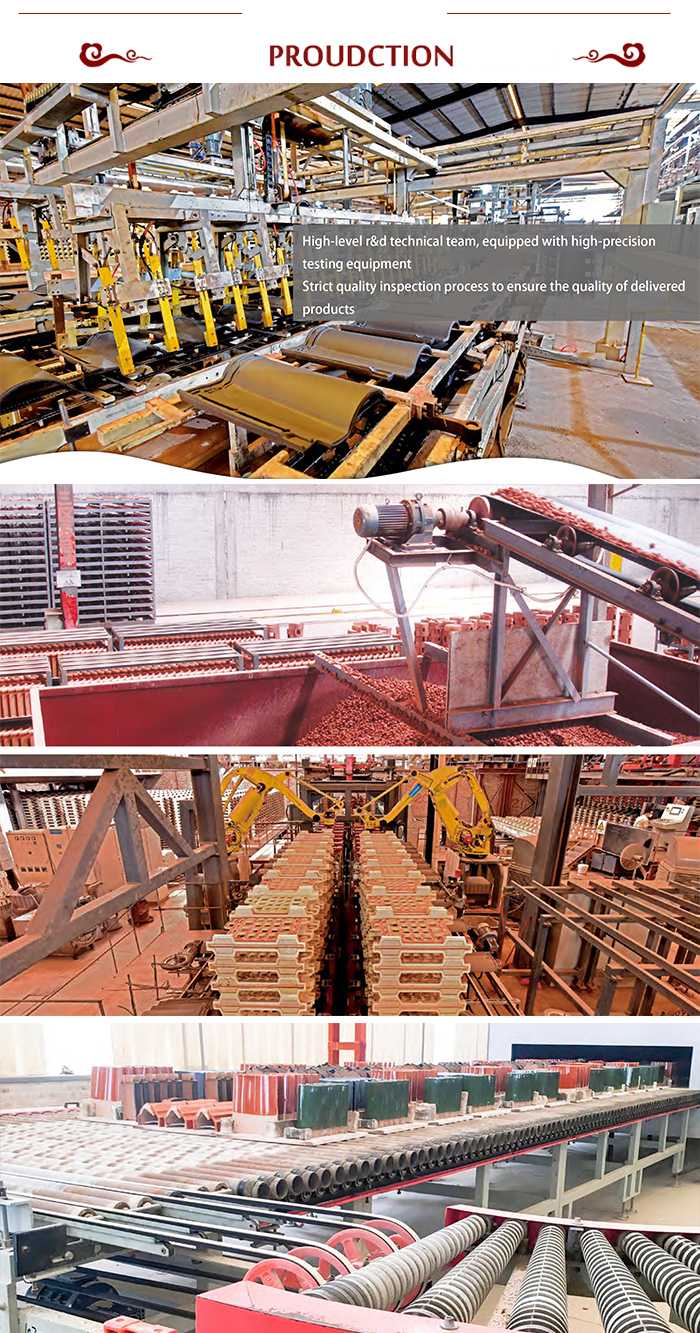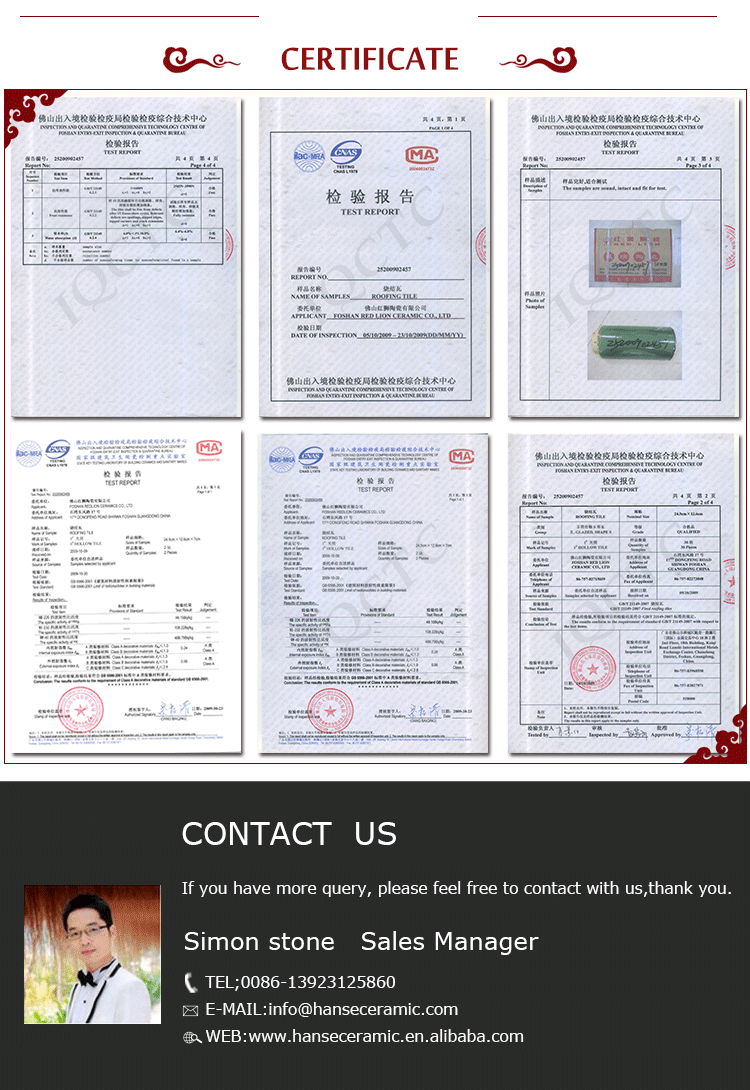 Tile Certifications
About Hanse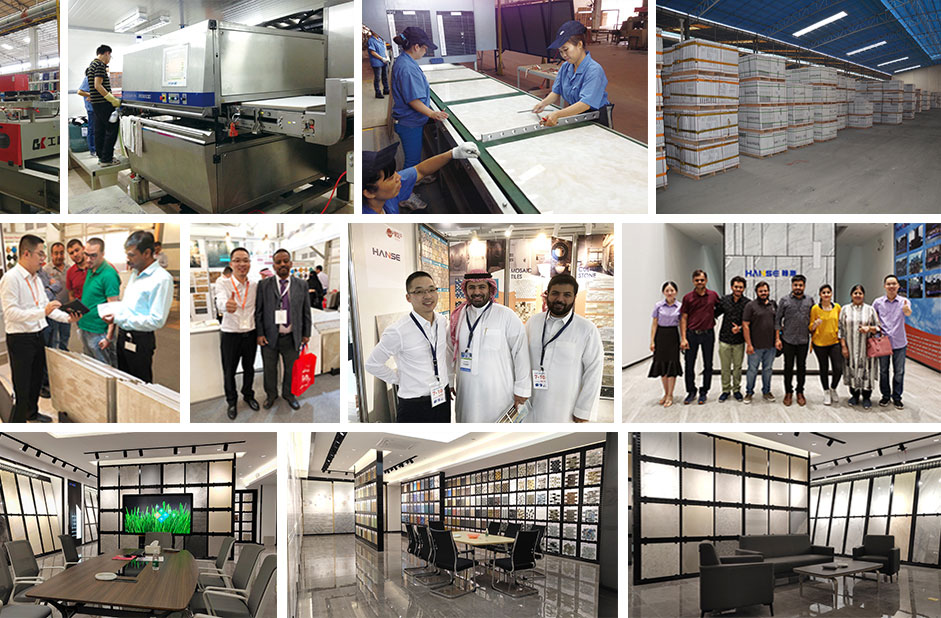 Our Services
Free Sample

Free sample order is provided, but the transportation fee should be paid by yourself. We ship the goods via Guangzhou port.

Design Scheme

We offer design scheme and effect drawing, helping you realise your vision for the most beautiful, effective and functional environments.

Product Types

Our products for sale including: bathroom accessories, sanitary ware, lamps, sockets, ceramic tiles and kitchen cabinets products.

Online Showroom

For more products please feel free to contact us. We accept online video chat that(whatsapp/wechat: +13927765473) you can get closer to visit our showroom and we'll show you all of our ceramic tiles, switch & socket, lighting, sanitary ware, bathroom products and cabinet products.
Featured Reviews
The tiles are packed tightly, intact, beautiful in design and color, good in luster, good in quality, thick in glaze, natural in color, fine and clear in texture, straight and neat in edges and corners, which the neighbors have said is good.
This tile is of high quality and awesome texture, and it is cost-effective. Customer service is warm and patient. The delivery is third days. Oh, the tiles have been received, the quality is absolutely superior, the price is also very affordable, and we must give five star praise!
The quality of ceramic tile is very good, the style is very unique, I like it very much. I wish Hanse a prosperous business, the quality of ceramic tile stone is very good, the surface texture is good, the transportation is broken, the package is made up, the anti-skid and wear-resistant, the logistics is also very fast, and the praise is good.
Luka Alessandro Rodríguez Báez
Luofu's customer service was particularly good. During the purchase process, I consulted many brands and saw many samples. They were either dissatisfied with the color or the quality. They only went to Luofu's house. At that time, they were anxious to see the samples and customer service immediately sent me Shunfeng. The designer also made the whole house design for free. That's all The whole set of ceramic tiles has been decided. The service attitude is really good. People can't find faults or thorns. It's really worth more than what it's worth. At present, it's in the process of paving and pasting, so it's worth recommending! The delivery of ceramic tiles is very fast, and the effect comes out immediately when the yard is paved. It's very beautiful, and the overall effect is excellent.
Originally, I thought that the purchase of ceramic tiles in other brands was reliable, but when I met 618 activity, I felt that it was a good-looking kitchen and bathroom. I heard that the amount of customer service that the store didn't have was also very enthusiastic. I was very satisfied with the purchase, which had no taste, good quality, much cheaper than other brands of ceramic tiles, and the logistics was very fast.
Tile and his wife discussed for a long time before they decided to buy this brick, it really did not buy wrong, brick quality is very good, looking forward to the effect of decoration! First of all, the tiles said that the things in the shop were beautiful, but the cartons were poorly packed. Fortunately, I bought a wooden box to put in one box. It's a piece of crap. It's OK to play some pieces anyway. But I chose the gold color, red and gold, which didn't print a few pieces, a little disappointed.
Tile logistics is awesome, and the packaging is very solid without breakage. The quality is very good, the color is what I like, the price is not expensive, very satisfied. The color and appearance of ceramic tiles are exquisite, and the antiskid effect is good. I plan to recommend them to my friends.
Ceramic tile product function: paste very convenient appearance material: very good-looking like, ceramic tile product function: product function very good product quality: product quality very good appearance material: appearance material is very good.
Tile received texture is clear, very beautiful atmosphere, color is also more resistant to dirt, very good cleaning, tile is very good-looking, looks clean, fresh and comfortable, color soft, bathroom feel warm up.
The tiles received were free of defects, and the packaging profession did not bump. The texture is very good, the quality of the store is good, and the real value for money. Need to come again next time. Tile shop in the courtyard is very beautiful, a bit more quiet rural wind, walking on it also has the effect of massaging the sole of the foot, it's really great.
Load More
Related Products