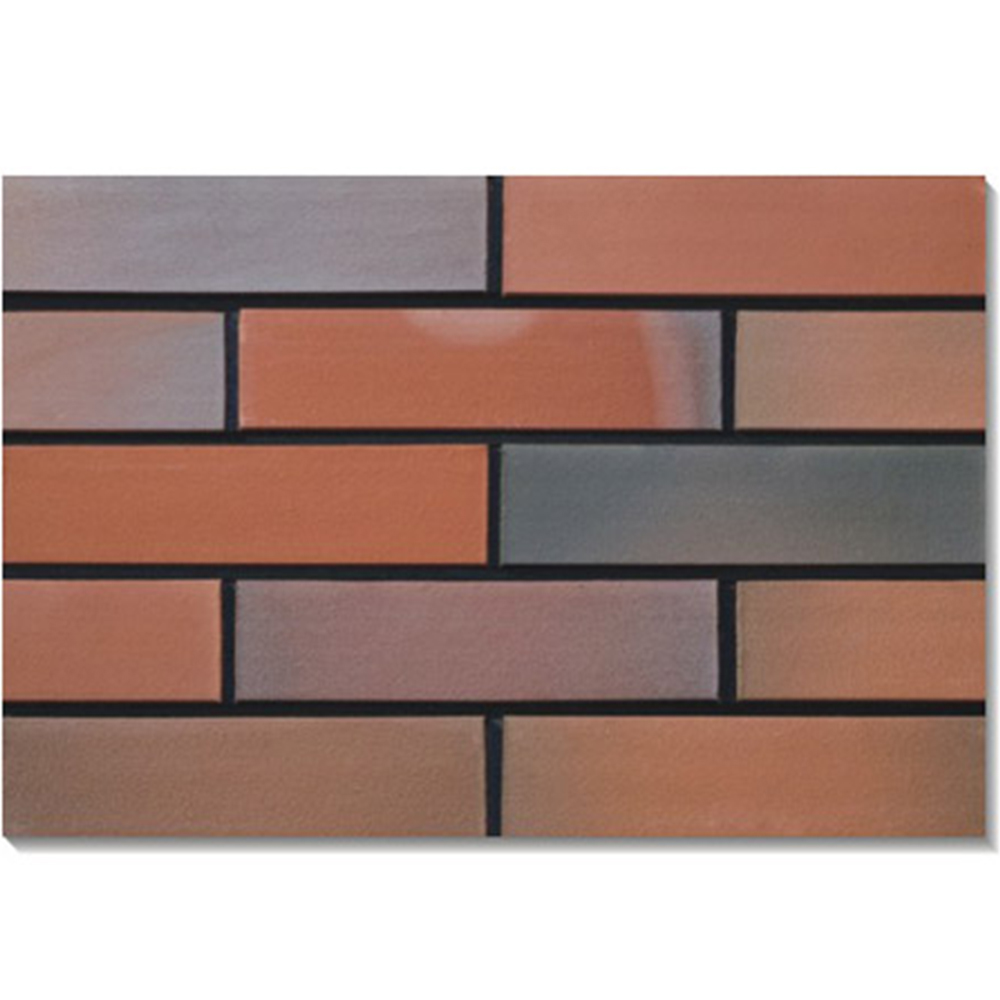 Brown Exterior Decoration Red Paving Clay Fireplaces Eco Wall Bricks Manufacturers
Product Details
Model Number

MPB-0062

Application

Villa

Porosity

Solid

Projectsolutioncapability

Others

Waterabsorption

3 years

Size

240 x 60mm

Designstyle

Traditional

Klintemperature

1220 degree

Type

Clay Bricks

Style

clinker tile

Warranty

klinker tile

Package

Standard Packing

After-Saleservice

Online technical support

Name

exterior decoration wall brick
Product Description
Hanse 240 x 60 mm brown exterior decorative red clay eco wall tiles with a rich unique texture and a popular brick red colour present a natural and beautiful look in line with current house decoration trends. The brown clay eco wall tiles are suitable for common exterior applications including residential, commercial, and other outdoor wall decorations or interior retro unique designs. High hardness, good resistance to wear and corrosion, high-grade materials, excellent durability and reasonable prices are the advantages of Hanse brown clay ecological wall tiles. Depending on your needs, you can choose Hanse brown clay eco wall tiles to create a modern or retro, harmonious or maverick style for your decorative space.
Product overview
Choose the best brown exterior decorative red clay eco wall tiles for your wall decoration from a reliable clay wall tile manufacturer with cheap clay eco wall tiles and a high-quality guarantee.
- Clay eco wall tiles 240 x 60 mm (model: MPB-0062) for outdoor wall decoration
- Brown exterior decorative red clay eco wall tiles colour: brown, brownish red, size: 240 x 60 mm.
-Clay eco wall tiles are made of clay and clinker bricks.
- Hanse clay eco wall tiles comply with ISO 9001 certification, CE certification environmental management system certification, etc.
- High-grade durable materials and strict quality control systems ensure the quality and safety of Hanse clay eco-wall tiles.
- Hanse clay eco-wall tiles have a classic look that is in tune with the times and has a taste of its own.
- Hanse clay eco-wall tiles are free from harmful substances and safe to use.
- Hanse clay eco-wall tiles are high quality, hard, wear-resistant, corrosion-resistant, waterproof, fireproof and non-slip.
Exterior decoration red paving clay fireplaces eco wall bricks manufacturers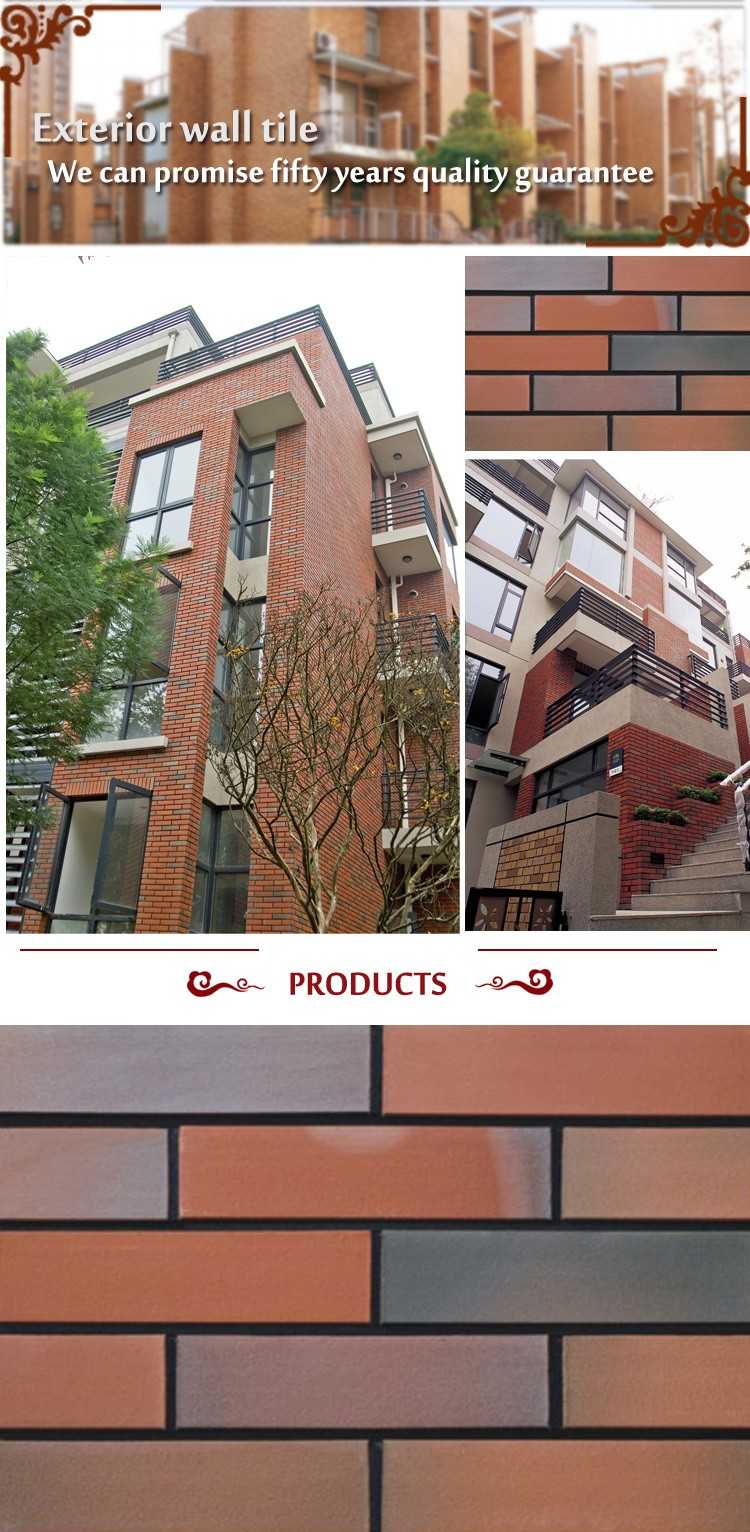 Packaging information

Size(mm)

PCS/BOX

KGS/BOX

BOX/PLT

PLT/20GP

240X60X10

70

20

60

20

230X52X10

70

19

60

20

240X60X12

70

23

60

20

240X71X10

50

21

60

20

240X71X12

50

22

60

20

240X71X13

50

22

60

20

240X71X15

50

23

60

20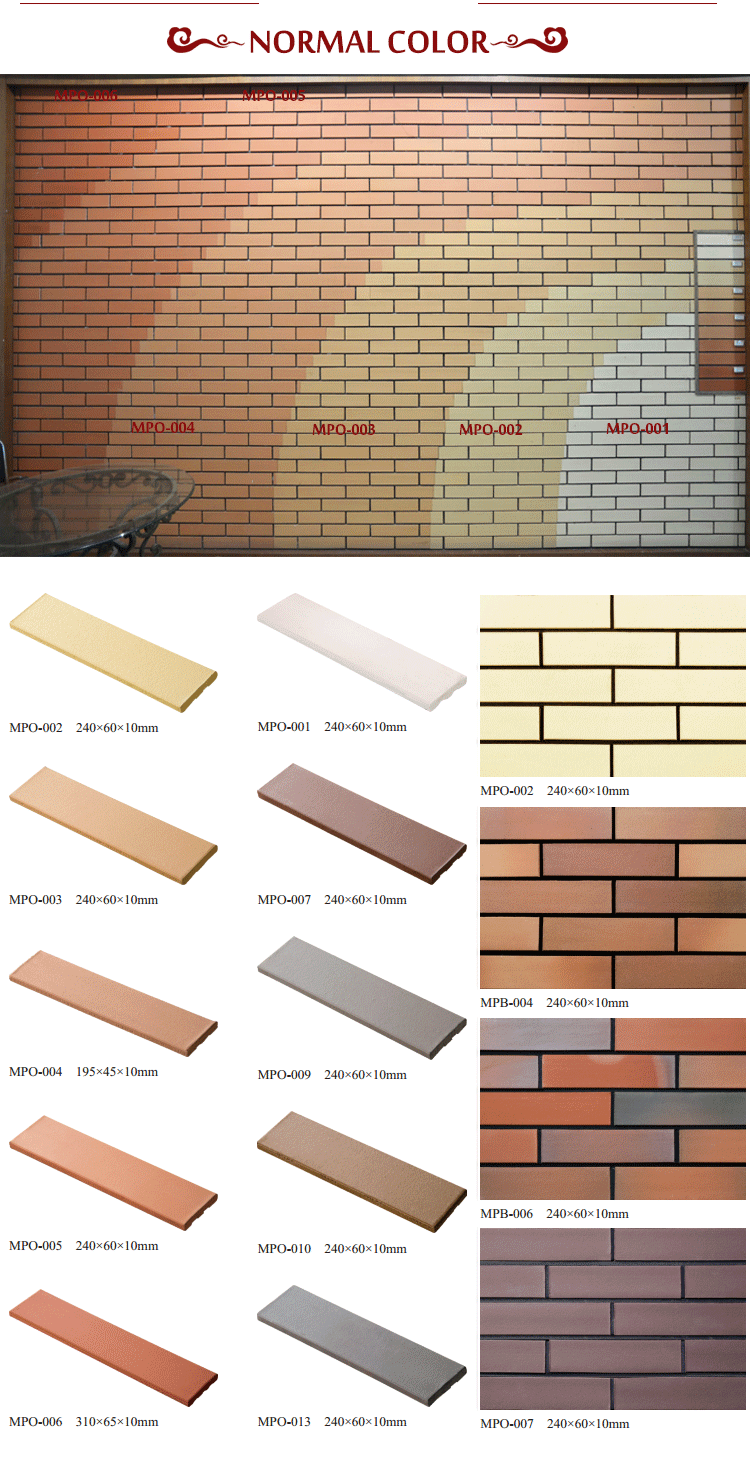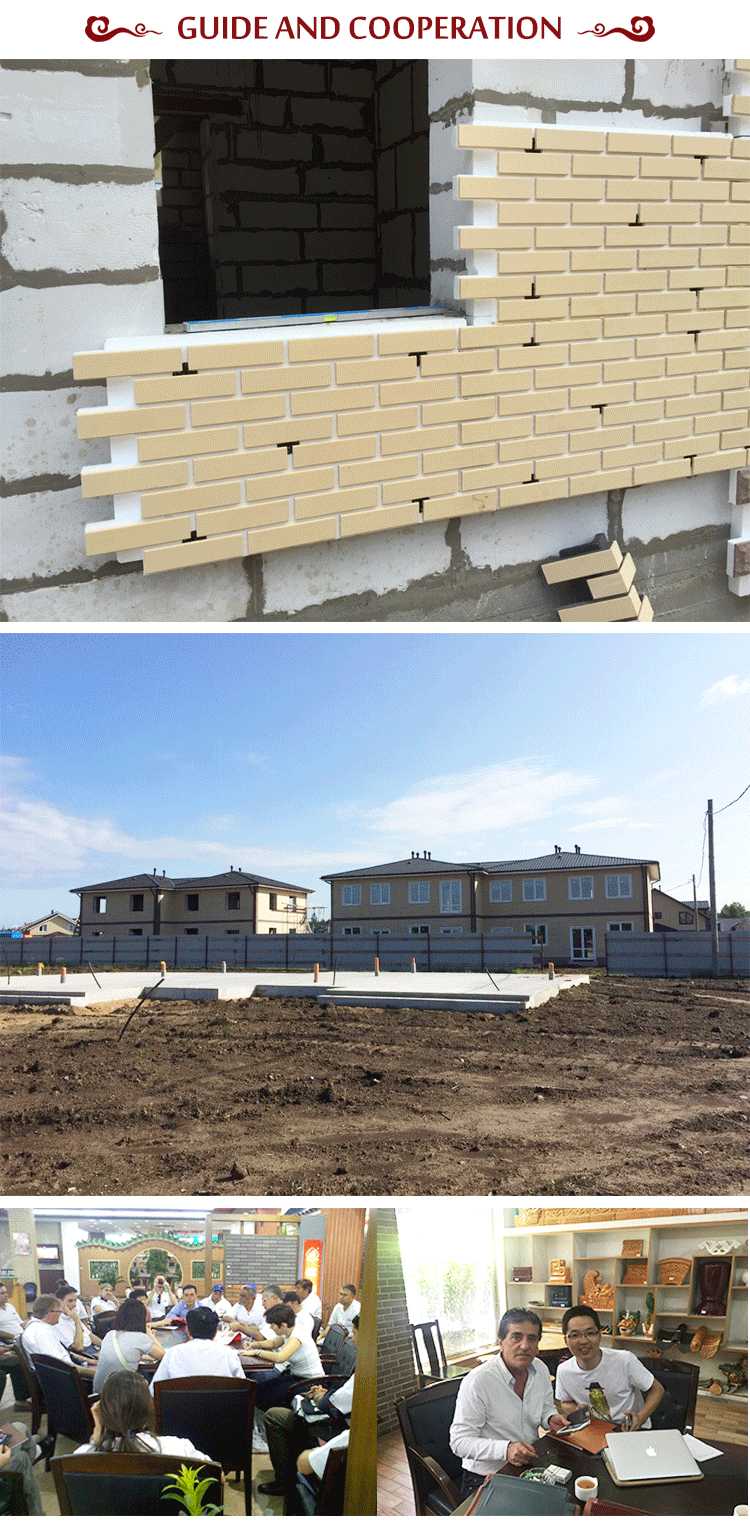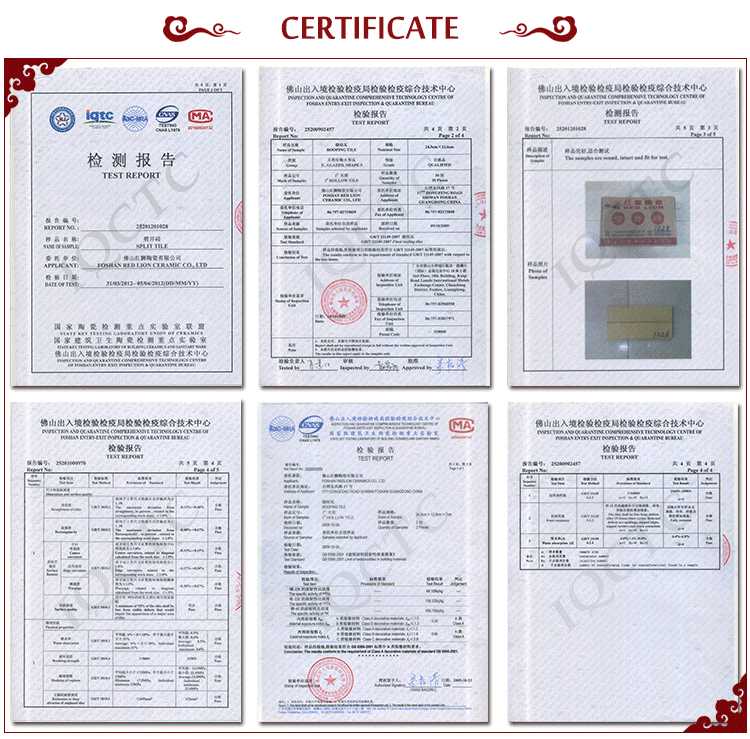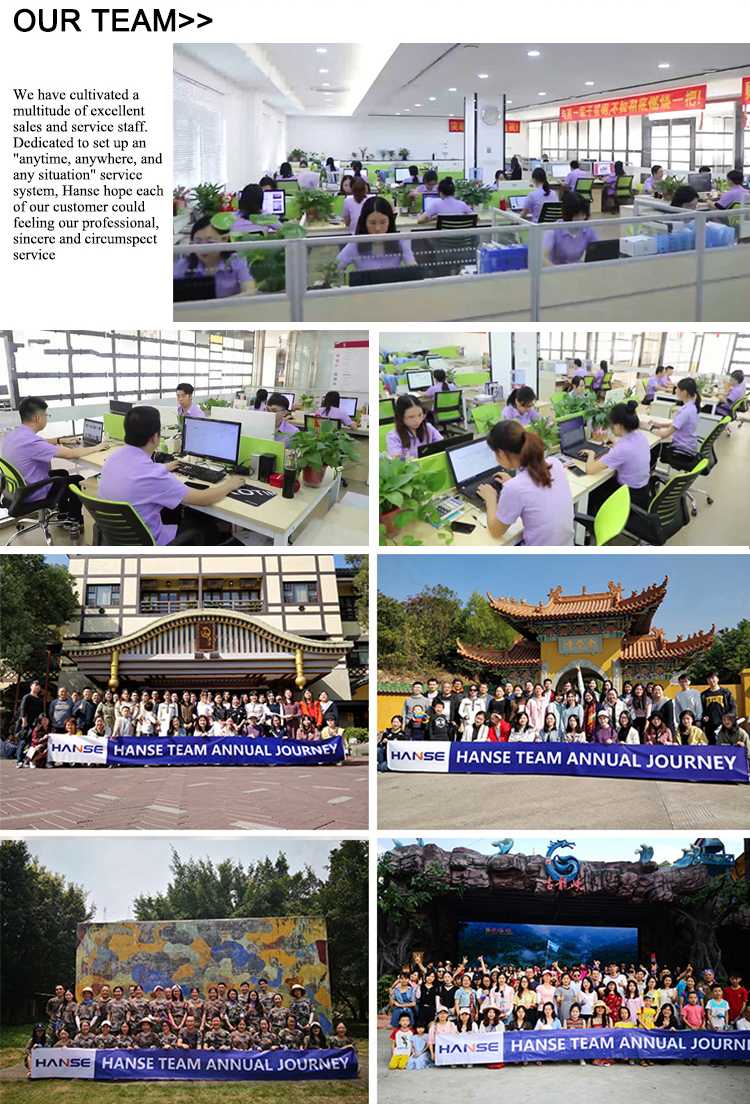 1. How do I know your quality?
High solution detailed photos and free sample will be able to verify our quality.
2. Are you a trading company or factory?
We're factory. We manufacture products ourselves.
3. I'm a home owner and I need small quantity, what can I do?
Please check with our sales team if it's in stock or if we have distributor locally.
4. Can I get a door to door service? or can I get the tiles delivered to my door?
Yes, we offer delivery to your door service, which makes your work easy.
5. Can I get a sample first? And how does it charge?
Yes, free sample is available with freight collect or prepaid.
6. What if the tiles are broken during transition?
All our products are insurance, our after sales will sort our the reasons and will sure you'll be properly compensated.
7. What's the benefit for long term importers or distributors?
For those regular customers, we offer incredible discount, sample free shipping, free sample for custom design, custom packaging and QC as per custom requirements.
8. Can you make products from our designs?
Yes, we do OEM and OBM.
9. How do I make payment?
We received PayPal western union and directly bank transfer to our company account. If above are all unavailable, we will issue you a PayPal invoice and you simply pay by credit card
If you have more query, please feel free to contact with us,thank you.

Tile Certifications
About Hanse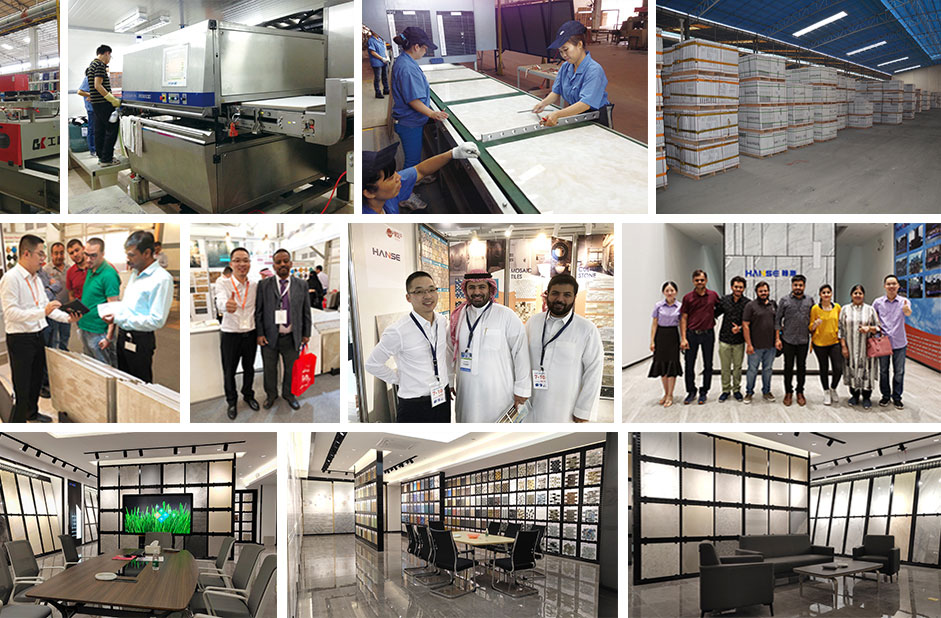 Our Services
Free Sample

Free sample order is provided, but the transportation fee should be paid by yourself. We ship the goods via Guangzhou port.

Design Scheme

We offer design scheme and effect drawing, helping you realise your vision for the most beautiful, effective and functional environments.

Product Types

Our products for sale including: bathroom accessories, sanitary ware, lamps, sockets, ceramic tiles and kitchen cabinets products.

Online Showroom

For more products please feel free to contact us. We accept online video chat that(whatsapp/wechat: +13927765473) you can get closer to visit our showroom and we'll show you all of our ceramic tiles, switch & socket, lighting, sanitary ware, bathroom products and cabinet products.
Featured Reviews
It is mentioned that the use of grey shadow grouting is obviously under review with grey products, rather than brown products. If you have grey, then use grey shadow grouting, but if you have brown, then use warm grey brown, as recommended in store display
We went to a local floor shop to see the choice of wood, but we have dogs, so we decided that we should not. The store manager said that they have some tiles that look like wood with good quality, low price and quick delivery. The tiles are good, the material is very good.
The ceramic tile packaging is intact, with high gloss, clear line texture, positive color, and good customer service attitude. Tile received, the quality is really good, archaize tile is really on the grade, pattern is also very good-looking, super satisfied.
Awesome tiles, and remove logistics, I do not know that the store still earn no money, which is nearly half cheaper than I bought locally. The bathroom tiles have arrived, and the delivery is fast. The logistics are very powerful. The packages are intact. They are all as good as Hanse described, and are good at every aspect.
Unbelievable as like as two peas, I love to see the design of the shop. I love it. I didn't think that customer service could be designed and bestie. It's incredible. If you don't say it's the same, you can at least adjust it according to your own way. It's very good. What's more, it can save 60 or 70% of the cost compared with other brands' ceramic tile quotations. It's terrible.
The quality of tile floor tiles is very good, the texture is clear, the surface is smooth, the color and the color of my home decoration match very well, Da Ai, the quality of tile is very good, the seller delivers goods quickly, the appearance is good, the family is very satisfied.
Tiles. My father asked me to buy it. After receiving the goods, my father said it was OK. It was cheaper than that in the store. The quality was good and the color was good. Later, my father said that he would buy more tiles. The tiles on the floor were beautiful, smooth and flawless. The size was in line with that. The delivery was also timely. He would introduce them to his friends.
Tile quality is good, express delivery is fast, the seller's service attitude is good, tile quality is good, the workmanship is fine, the pattern is clear, very beautiful, the decoration tiles said I bought well, bought affordable.
We have to search multiple boxes to find enough to complete our project (it may take 45-60 minutes). Because the tiles on the grid are placed very close, many corners have gaps \ / cracks
We used it on the island. The children's feet were beaten. It took about three hours to build a 10 foot long island, mainly because I did a lot of cutting and repairing on the top to save the time to buy more tiles
Load More
Related Products