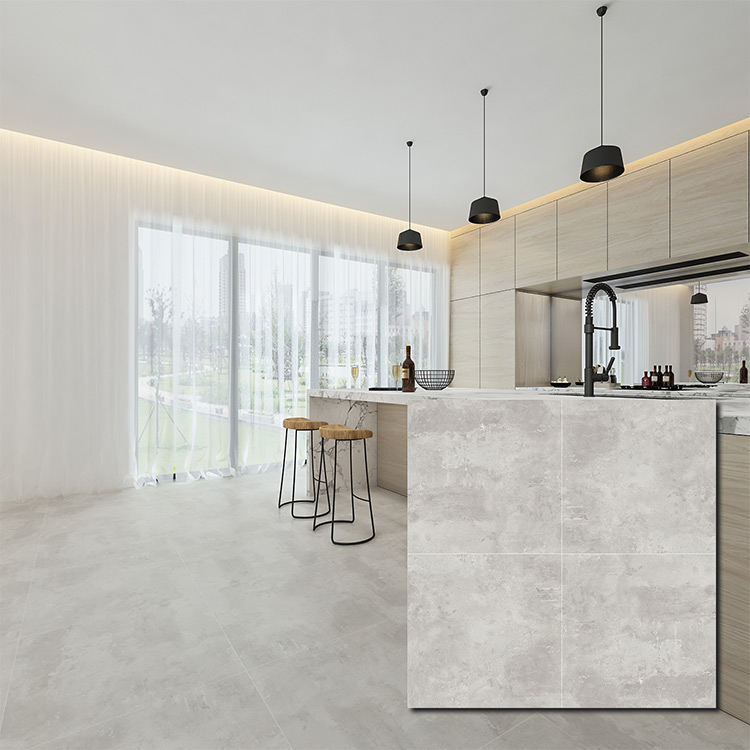 Grey Glazed Porcelain Floor Tile
Product Details
Model Number

HBF004

Brand Name

Hanse

Brandname

Hanse

Modelnumber

HBF004

Place Of Origin

Guangdong

Province

Guangdong

Size

600 x 600mm
Product Description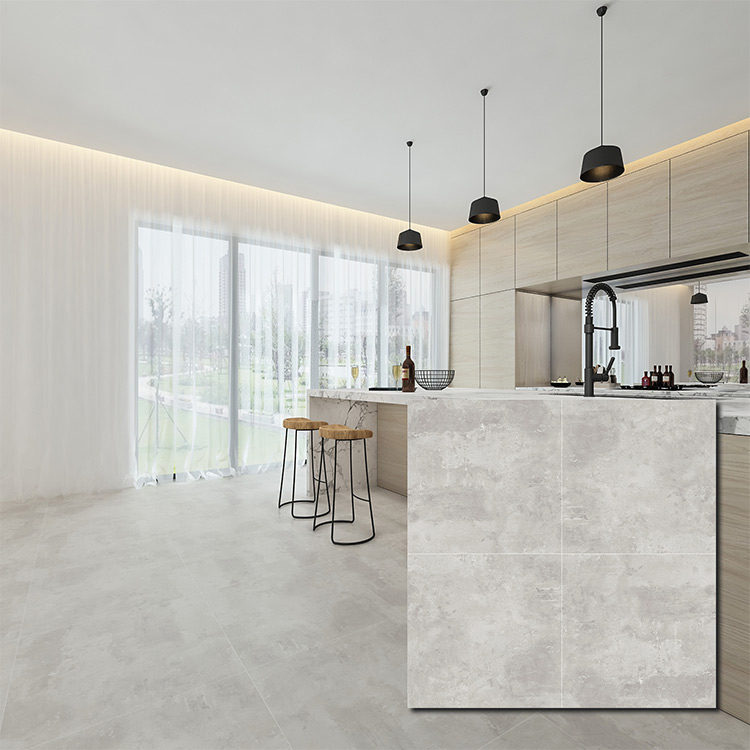 Description
Hanse 600 x 600mm Grey Glazed Porcelain Floor Tile collections come with a matte finish in white and light grey, ideal for installing on the wall in Bathroom, Kitchen Wall, and other areas requiring waterproof and stain-resistant walls. The advanced texture design is in line with the modern style. For a traditional look and longevity, use contemporary ceramic and porcelain tiles. These tiles offer long-lasting beauty that is versatile, inexpensive, and easy to maintain. Interesting shapes and sizes are a great way to add life to a smaller space. So for an on-point look, why not combine the emergence of hexagon tiles with the trend for shades of grey?
Product Overview
Choose the best Grey Glazed Porcelain Floor Tile with cheap ceramic tile prices at reliable tiles manufacturers for your metope and ground adornment in different areas with varying specifications.
- Grey Glazed Porcelain Floor Tile 24x24(Model: HBF004) is for interior or exterior floor decoration
- These tiles come in color: grey, size: 600x600mm, water absorption: ≤1%
- Numerous variations in patterns, tones, and sizes
- The ceramic tile has many features or effects, such as stone, marble, etc.
- Our ceramic tiles conform to ISO9001 certification, CE certification, CCC certification, and ISO14001 environmental management system certification, etc.
- High-grade, durable material and strict quality control system ensure the quality and safety of Hanse tiles
- Ceramic tiles provide a classic appearance, you can keep up with the trend of the times and have your own taste
- The ceramic tiles make you feel clean and soft when they are finished, easy to work with
- Hanse ceramic tiles contain no harmful substance, safe to use
- High hardness, good abrasion, and corrosion resistance, waterproof, fireproof, and non-slip
- Suitable for the flooring of the bathroom, restaurant, kitchen, living room, office, etc.
Tile Certifications
About Hanse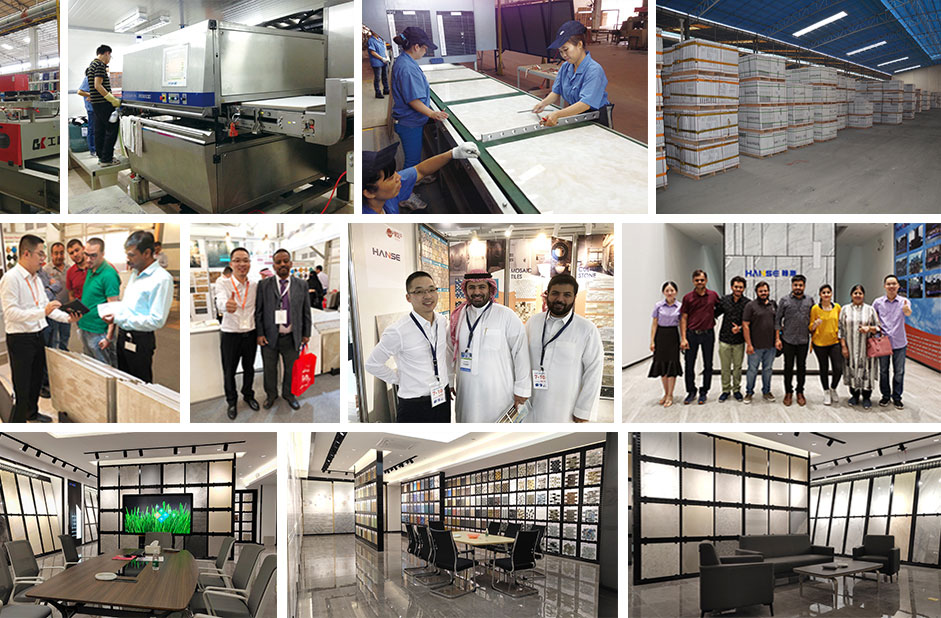 Our Services
Free Sample

Free sample order is provided, but the transportation fee should be paid by yourself. We ship the goods via Guangzhou port.

Design Scheme

We offer design scheme and effect drawing, helping you realise your vision for the most beautiful, effective and functional environments.

Product Types

Our products for sale including: bathroom accessories, sanitary ware, lamps, sockets, ceramic tiles and kitchen cabinets products.

Online Showroom

For more products please feel free to contact us. We accept online video chat that(whatsapp/wechat: +13927765473) you can get closer to visit our showroom and we'll show you all of our ceramic tiles, switch & socket, lighting, sanitary ware, bathroom products and cabinet products.
Featured Reviews
I think the quality of tiles is particularly good. Tilers, the bricklayer, also said that it's very good. The service attitude of tile seller is also very good. It's the effect I want. The packaging is very good and strong, and there is no damage.
Logistics soon received the marble tiles without any damage and defects. The color is uniform, the size is appropriate, the quality is good and the price is appropriate. We will continue to buy them back. The packaging is very careful, the quality is good, the texture is beautiful.
It's not beautiful yet. Carmen's grey shop (balcony and kitchen) is very atmospheric and stylish, which is very suitable for Northern European style. Actually, it's lighter than the photo. The background wall (White Swan and Carmen grey matching) has not been pasted yet. Let's sun it after the effect comes out. Overall very satisfied (the price is much cheaper than that of other brands of ceramic tiles), that is, the logistics is slow, the goods are replenished and waiting. Ceramic tile originally thought that it would not be too good to be cheap. It's really a surprise. It's very shiny, with clear lines, simple and generous, anti-skid and wear-resistant!
The tiles are well packed and delivered quickly. Check carefully that there are no quality problems. I'm also satisfied with the price. In a word, it's very cost-effective. I've already collected stores. I'll come again if I have a chance. Tile received, it was recommended by the next door neighbor. His house was decorated in front of my house. I saw that the tile of his house was very good. I asked for a link to buy it. It was really good, just as he bought it. The store delivered goods very quickly, and the packaging was very strong. This time, the logistics was a little slower. Fortunately, the store business communicated with the logistics in time, urging the goods to flow here. Thank you very much for the service of the store.
Tile thing received, no color difference, texture is also good! Satisfied, it's very comfortable for women Hanse to do business. Originally, buying ceramic tiles online was so heavy, and the amount of money was relatively large. I was sure I wanted to find a reliable shop and Hanse. I know that Hanse in this shop is a woman and has a good reputation. I feel more confident about this. I know more about women Hanse's politeness and politeness in communication. When these concerns are gone, I will buy Porcelain Brick natural very smooth, the shop has a professional designer called a Liang, a humble young man! At last, I'd like to say that her ceramic tiles are 100% authentic.
The color of the tiles is good, the quality is good, the packaging is very careful, there is no damage, and the quality of mosaic tiles is also very good, specially put into the water, there is no sign of cracking.
Ceramic tile logistics is very fast, the service attitude of the store is very good, the size is standard, beautiful and atmospheric. Ceramic tile product function: proper size, smooth corners, product quality: product quality is good, very thick appearance material: beautiful appearance, looking at the high-end atmospheric grade, no color difference.
Now I like my new bathroom. The marble interval is very good. Even on the back of the net, the price is very suitable. Although it needs to be filled with tile filler, I have to go back and press it on with a mortar trowel after the tile solidifies a little for an hour, but it looks great
The appearance is smooth, the tiles are very practical, the express package is not damaged, the little brother of express also helps to carry them upstairs, the whole thing is very easy, the tiles are received, the quality is very good, the workmanship is very fine, the style is also very good, the color is very natural, really good. I like it very much. I have to give it a favorable comment. Hanse, the seller, is very kind and hospitable. The description of things is basically the same as that of the seller.
The tiles are very shiny. The pattern on it is also very beautiful. It's very easy to cut and use, and it's very solid. The ceramic tile glaze is beautiful, thick and solid, and the whole is flat. After all the bricks are pasted, the overall appearance looks very high-grade, the surface finish is very good, and it looks very layered.
Load More
All Colors
Related Products