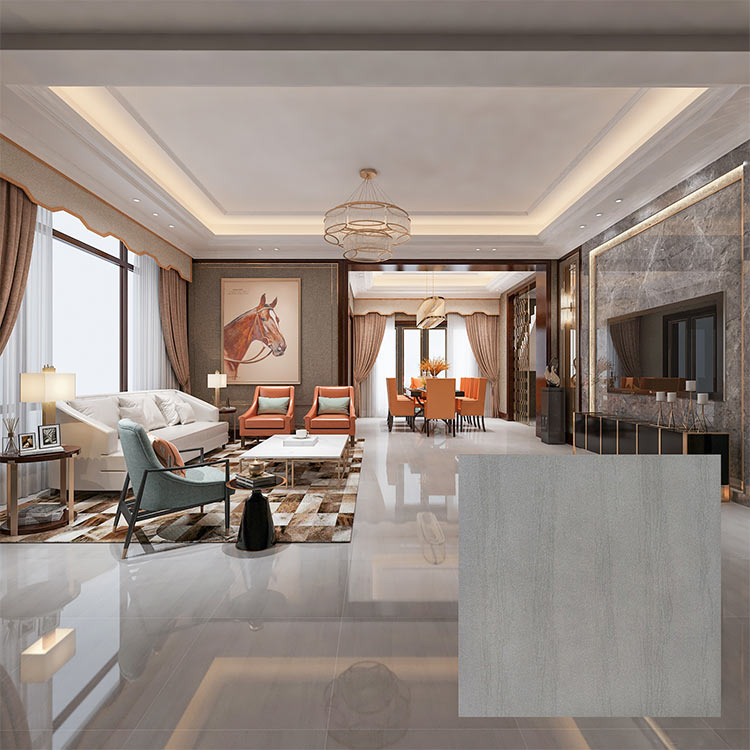 Grey Glazed Porcelain Floor Tile
Product Details
Model Number

HF6803T

Brand Name

Hanse

Brandname

Hanse

Modelnumber

HF6803T

Place Of Origin

Guangdong

Province

Guangdong

Size

600 x 600mm
Product Description
Grey dominates the design world, with everything from high-end furniture to high-street fashion. While many of today's gray tiles are designed for modern floor spaces, there are also many designs that offer a different touch. Rustic wood-effect planks, luxurious marble-inspired panels and patterned pieces for a retro vibe. Style starts at your feet, so turn your living room into a designer abode with grey wood planks. Their naturally long shape catches the eye; feel free to stagger the joints for a more organic feel. While tiles may come in all shapes and sizes, we think the humble 600x 600mm might be the best fit. Large enough to grab attention yet slim enough to fit in a cozy kitchen, we recommend these tiles for almost any space. Lay down a tile bonding pattern and you'll have a new floor that will outlast any fashion whimsy. If you love classic-style floors, gray might not be the first color you think of. But not all gray tiles are modern and minimalist. Choose one with subtle movement and texture for a quiet, rustic appeal.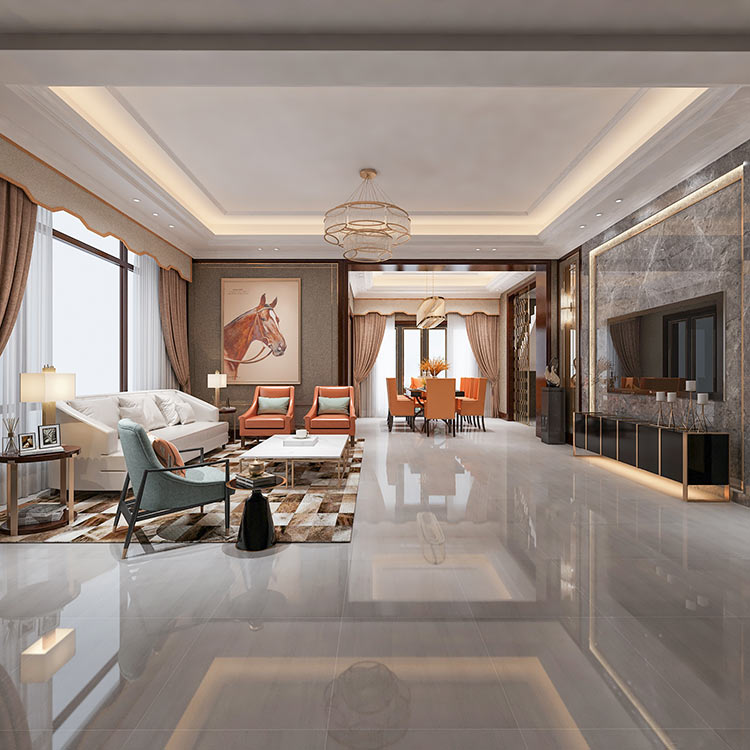 Tile Certifications
About Hanse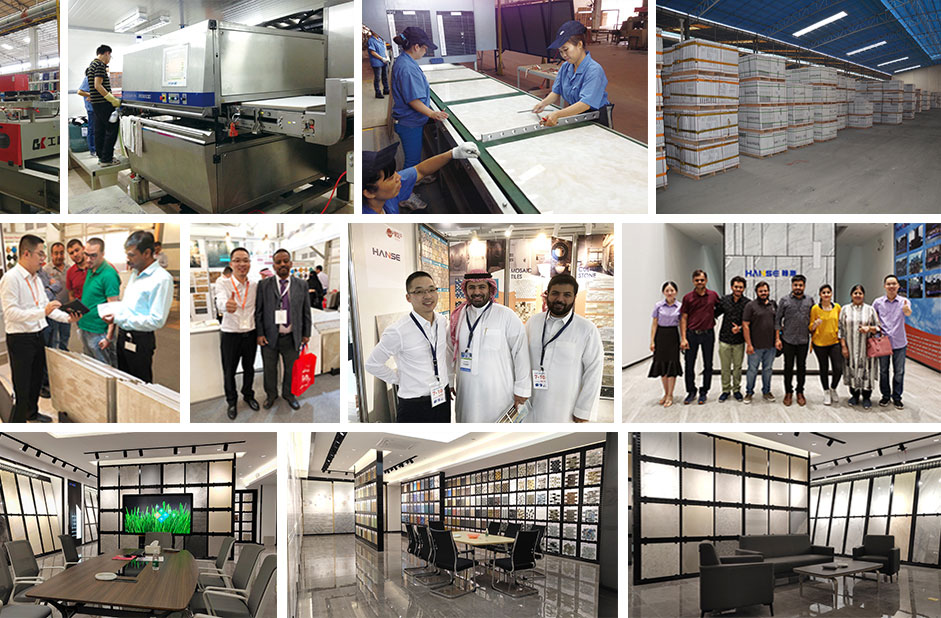 Our Services
Free Sample

Free sample order is provided, but the transportation fee should be paid by yourself. We ship the goods via Guangzhou port.

Design Scheme

We offer design scheme and effect drawing, helping you realise your vision for the most beautiful, effective and functional environments.

Product Types

Our products for sale including: bathroom accessories, sanitary ware, lamps, sockets, ceramic tiles and kitchen cabinets products.

Online Showroom

For more products please feel free to contact us. We accept online video chat that(whatsapp/wechat: +13927765473) you can get closer to visit our showroom and we'll show you all of our ceramic tiles, switch & socket, lighting, sanitary ware, bathroom products and cabinet products.
Featured Reviews
José Tomás Valdivielso Leiva
In recent years, Karaka white is particularly popular, that is, there are some smoke gray flowers on the white tiles, which is suitable for simple style decoration. Good, good! Tile quality is very good, workmanship is very good, affordable.
My house is just in the process of decoration. I have seen several of them. This ceramic tile is deep in my heart. Color and pigtail brother's almost, specially selected, in order to be the same as pigtail brother!! Tilers said that the quality of tiles is good. It's authentic Hanse tiles. There was no damage after delivery. The packing was very good. The tiles are not bad, the quality is good, the packaging is good, the surface is very smooth and bright,
It's a beautiful ceramic tile. After a long time of selection by the designer, I went to see other brands of ceramic tiles. I just think it's very common. I saw a lot of eyes on the Internet, and finally explained the style and requirements with the shopkeeper. I recommended several kinds of ceramic tiles and finally decided on this one. Very satisfied, tile received, logistics is very fast. The packing is good and undamaged. Good quality and good style.
Tile received, first of all, the packaging is very good, there is no damage, this fragile product should be packed carefully, second, the quality of tile is very good, very thick, its texture is very beautiful and beautiful, I like it very much, and it is more cost-effective than other brands of tiles! The quality is very good, the glaze is thick and glossy, the price is very cheap, much cheaper than other brands of ceramic tiles.
As far as I'm concerned, I will only have a more experienced tile installation program to install it, and we are very lucky to have a good tile contractor to do this. The color is good. The quality of tiles is still worth the price.
Tiles for friends to buy because they do not know which one to choose to decorate their own yard, so choose several styles of the store to see the quality is good, the tiles are very satisfied, the quality is very good, the style is also good-looking.
The logistics speed of ceramic tiles is still very fast. When I picked up the goods, I opened it and looked at it. Two pieces were damaged in one box. Everything else was intact and well received. The two-dimensional code automatically generated a mobile phone to scan and look at a 24-hour hot post more > > this is a praise template, don't look at the following are all rubbish. Because this fairy love love, she doesn't want to make complaints about every tile, so she can imitate the template of the user. However, this tile is a fairy like whether it's quality or style. If you don't like this fairy, you will be very angry. Then this template will become a variety of spittle, and it won't be a good reference for you. This ceramic tile is also excellent, from a lazy and easy-going fairy who only loves shopping and doesn't like writing comments but only wants to change points.
First of all, we should praise the customer service for the small ashes and solve the problem patiently. We bought the tiles at the event and compared them with several others. We felt that it was very affordable. We didn't have any problems with the quantity of the products we received. We said that there were several boxes with some corners broken, and we didn't know if the bricks were damaged. The service was good, the customer service was very patient, praised first, took the big lantern, but the seller contacted the color of the big lantern and the picture had deviation before delivery, and bought the small lantern instead. The seller is very patient to help me choose the color, the package sent is intact, open two boxes without damage, the color is exactly what I want. I hope that there will be no problem with the tiles when they are laid in the future, and I will fill in the actual picture.
The whole project is going to be finished in two days, but I'm very satisfied with the final result. I'm open to change the plan. That's what happened. These tiles were never in the plan, but they did the work
There is no doubt about ceramic tiles. Good things are not afraid of comparison or inspection. Customer service teachers are very detailed and clear. I asked several stores before, the only difference was the customer service attitude, which explained to me that in addition to communicating on Hanse, we can't trade in other ways, and in order to protect our later commitment and guarantee, I also understood the mystery. Thank you very much. There is no color difference in the actual ceramic tiles! The logistics will also arrive soon! No bad!
Load More
All Colors
Related Products