Product Details
Model Number

ML-0019

Colors

MA

Name

red

Designstyle

grey

Application

Villa

Projectsolutioncapability

green

Gurantee

marron

Qualitycontrol

yellow

Certification

ISO9001

Size

225 x 220mm

Type

Traditional

Warranty

more than 50 years

Waterabsorption

temple roof design

Surface

any color available

After-Saleservice

Online technical support
Product Description
Chinese style temple roof design on sale

Raw materials

Nature red clay body

Brand Name

Red Lion

Available color

Yellow, green, red, grey, maroon

Normal size

Main cover tile
ML-001:225x220x11.5mm,1.1kg/pc,20pcs/carton.33pcs/M2(1/0.3m/0.23m=33pcs)

Main bottom tile
ML-002:190x220x11.5mm,1.2kg/pc,15pcs/carton.length/0.23m

Face cover tile
ML-008:185x105x60mm,0.8kg/pc,20pcs/carton.23pcs/M2(1/0.9m/0.23m=23pcs)

Face bottom tile
ML-009:170x105x60mm,0.9kg/pc,20pcs/carton. length/0.23m

Manufacturing method

Extruded, glazed, fired in tunnel kiln

Pressure resistance

Resistance to compression>1800N

Temper resistance

High temperature fired in kiln≥1250°C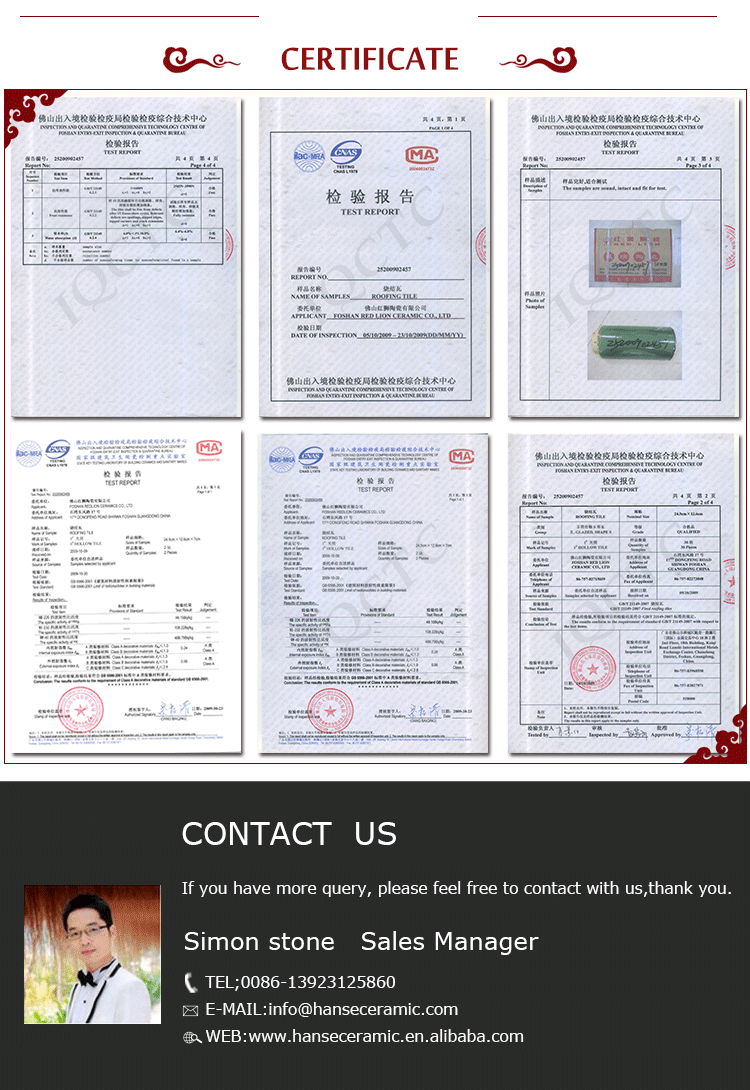 Tile Certifications
About Hanse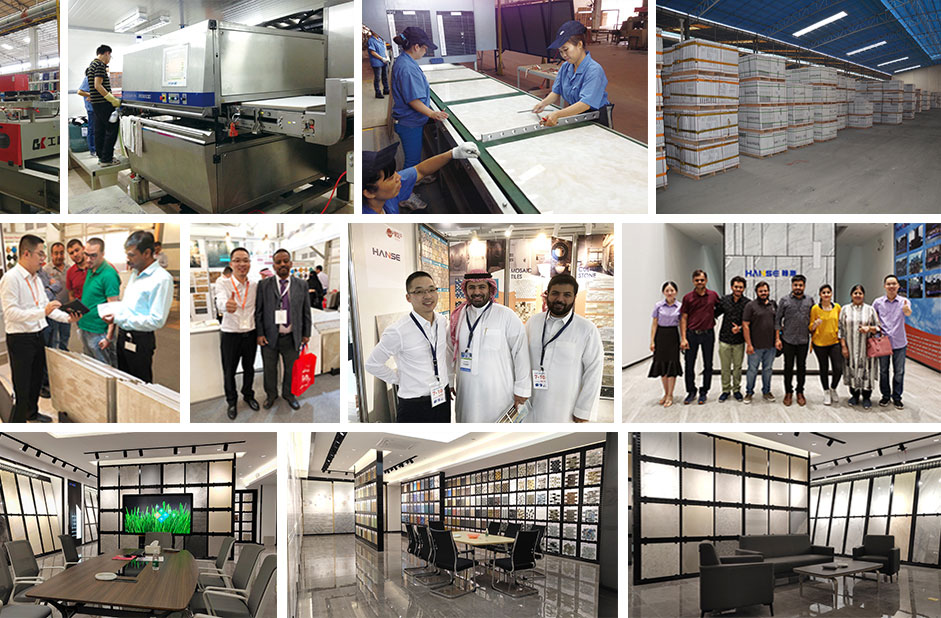 Our Services
Free Sample

Free sample order is provided, but the transportation fee should be paid by yourself. We ship the goods via Guangzhou port.

Design Scheme

We offer design scheme and effect drawing, helping you realise your vision for the most beautiful, effective and functional environments.

Product Types

Our products for sale including: bathroom accessories, sanitary ware, lamps, sockets, ceramic tiles and kitchen cabinets products.

Online Showroom

For more products please feel free to contact us. We accept online video chat that(whatsapp/wechat: +13927765473) you can get closer to visit our showroom and we'll show you all of our ceramic tiles, switch & socket, lighting, sanitary ware, bathroom products and cabinet products.
Featured Reviews
Very good back panel, suitable for a variety of different countertops \ / cabinets \ / floor styles and colors, tiles are easy to cut with hand-held tiles, because they are thinner than many other back panel tiles
This product matches cabinets and countertops, making my kitchen look like an expensive kitchen. We bought these tiles for kitchen decoration. We can't wait to install granite countertops, so we can install tiles. Thank you for your high quality products, affordable price
Ceramic tile is really very good, very atmospheric, the effect is very good, the service is also good, really good! Tile dark grey this floor tile luxurious style! Like the detailed introduction, the quality including logistics is also very good and fast!
Ceramic tile is very good-looking and cheap. It's worth buying! The tiles are very flat, so many of them are not rotten. In the new house by the sea, with this tile, the effect is very good. After the furniture is in place, we can print the pictures. The service ofHanse flagship store is excellent.
Ceramic tile logistics speed is very fast, the quality is good, the style is good. like it very much. The service was very warm-hearted, the tiles were very good, the lines of the kitchen and bathroom tiles were very smooth, the effect was very good, it was suitable for my decoration style, and the damage of the transportation was not big, the quality was very good, it looked very cultural from a distance.
The cost performance of ceramic tiles is very high, the quality is good, Hanse's service attitude is good, the logistics is very fast, the quality of ceramic tiles is good and the thickness is enough, Hanse said that all the tiles that can be used will not be wasted, very satisfied that they will come again next time.
Tiles received, the packaging is good without damage, the color is beautiful without color difference, the quality is good! The price is also very cheap! Very good service attitude! Ceramic tile logistics is very fast, the quality is very good, cost-effective shopping.
Tile bought silk spectrum stone light color wall brick dark color floor tile and Fenghuazhengmao wood grain brick, customer service is very good, pre-sale and after-sale are very professional and patient. Just pasted the wall brick and floor tile didn't feel particularly good-looking. After doing the beautiful joint and brushing the wall, I found that it really has a texture. It's a little pity that the color of wood grain brick is not the same as that of imagination. It's a lot worse than the color of the floor, and it costs a lot of money and sweat to do the beautiful sewing. It's better to order dark silk spectrum stone. In conclusion, it's best to see the most suitable silk spectrum stone. The wood grain brick is beautiful but it can't be put on my balcony. The flower brick is not very necessary unless the area is large enough. There are still a few boxes of silk spectrum stone bricks and a few pieces of wood grain bricks left. It's expensive to return them for postage. At present, I don't know how to deal with eating ash on the balcony... Tile quality is well received by Tilers, the color is positive, and the foot line is beautiful!
These boards are easier to use, and occasionally I will notice bending, but it's easy to correct. Add a thin layer of tiles or pop-up problem tiles under the low angle, and set different tiles in their positions (before curing, of course)
The tiles were received in a few days. They thought that the logistics was very slow. They arrived in three days. The delivery speed was quite fast. The surface felt anti-skid. It was suitable for home use. There were old people. The tiles were received. The terrazzo patterns with good quality were also nice and cheap!
Load More
Related Products