Product Details
Place Of Origin :

Guangdong,China (Mainland)

Brand Name :

Hanse

Model Number :

YQ1099

Size :

300 x 300mm
Product Description
This dark grey glass mosaic tile 300x300mm with polished surface replicates the classic brick wall style. With a glass striping, it can be used vertically or horizontally to achieve unique looks and create the illusion of a larger space. The edge of the dark grey mosaic wall tile is the fashion bevel, which will giving a strong impact and beauty, with a good decorative effect. Due to the features of environmental protection, high strength, easy cleaning and wear resistance of Hanse glass mosaic tile 300x300mm cheap, it's widely used in different space not only the bathroom and kitchen backsplash, but also the swimming pool wall.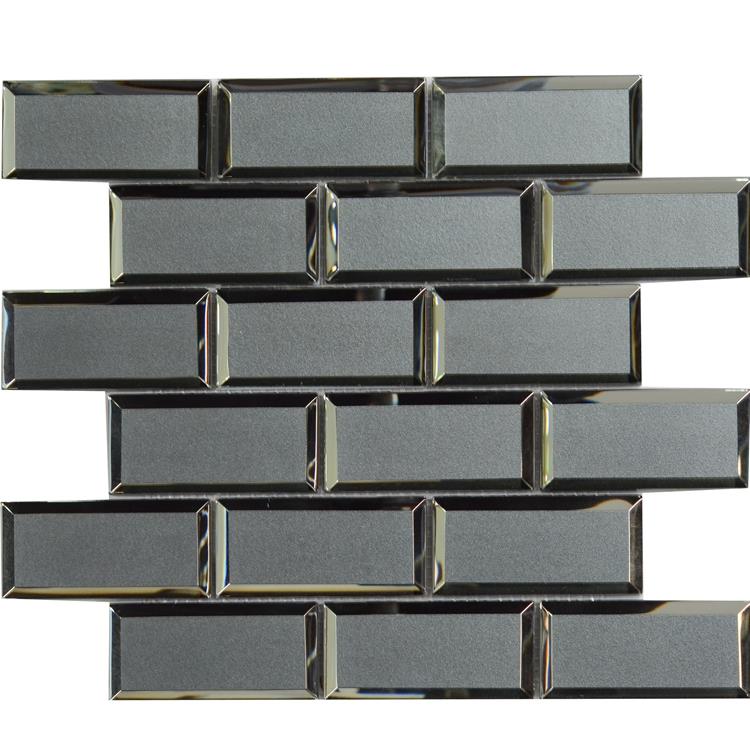 Our Services
Free Sample

Free sample order is provided, but the transportation fee should be paid by yourself. We ship the goods via Guangzhou port.

Design Scheme

We offer design scheme and effect drawing, helping you realise your vision for the most beautiful, effective and functional environments.

Product Types

Our products for sale including: bathroom accessories, sanitary ware, lamps, sockets, ceramic tiles and kitchen cabinets products.
Featured Reviews
We have lived on the floor for two weeks. We like it very much. Our two dogs and three cats have a good touch of ceramic tiles. The color is good. The tiles are satisfactory. The quality is very good. They are non slip.
Inventory levels continued to decline. I was sold 110 cases last week. The store has more than 120 cases on hand. At the scheduled pick-up date, they have less than 70 people. I am short of more than 40 boxes of materials for the work that should have been finished last week.
I'd like to add that I hired a contractor who saved me tons of tiles because of all the special cutting needs. If it wasn't a company specializing in marble, these tiles might be wasted due to debris, etc
I bought two tiles and looked at them. It's ok Logistics is also fast. Tile received the tile sample sent by Hanse, it's very good-looking and I like it very much. There are two houses to be decorated. After two days, we will confirm the quantity and place an order.
The tile package is complete without any damage. Very bright, Hanse's service attitude is very good, the ceramic tile logistics is not damaged, it is beautiful after installation, it feels very tall, my husband and I like it very much!
Ceramic tile logistics is very fast, the packaging is very good, the quality is also OK! Tile quality is very good, very consistent with the seller's description, very satisfied, really like, completely beyond expectations, this shopping is very warm, very satisfied, well received!
Tile received Oh, the packaging is very thick, very careful to prevent falling, and the quality is good, try it is non slip, the appearance is very good, it's worth buying. The tiles are very good with clear lines and no smell of water.
Tile received, very good, very strict packaging, logistics is also very fast, service attitude is very good, the quality of things is good, I like a shopping, give some praise! Very good, very satisfied, will come again! The pattern of ceramic tile is very good, and the texture is good. The thickness is also appropriate.
Because I was busy at work and didn't have time to run the building materials market, most of the main materials or auxiliary materials were purchased online. The most worrying thing was ceramic tiles. I carefully selected and compared many of them. At last, I chose to buy them from Hanse. After all, it was a big brand with guarantee. Of course, it didn't disappoint me at last. I was very satisfied with the price, the quality of ceramic tiles and the service, and emphasized again Meaning! I have to praise and thank you for your considerate service. From purchase to ordering, I have been very patient with the service explanation! Big brand is big brand, from quality to service are leverage! The quality of ceramic tile is very good, the antiskid effect is good, and it looks very good on the ground. People say it's very good-looking, and the appearance and material are first-class.
So I didn't try to cut or install, really can't comment, I want to have an "unknown" option in some categories, but it has to be marked as "average", which will artificially and unintentionally reduce the total score
Load More
All Colors
Related Products
Products you may be interested in